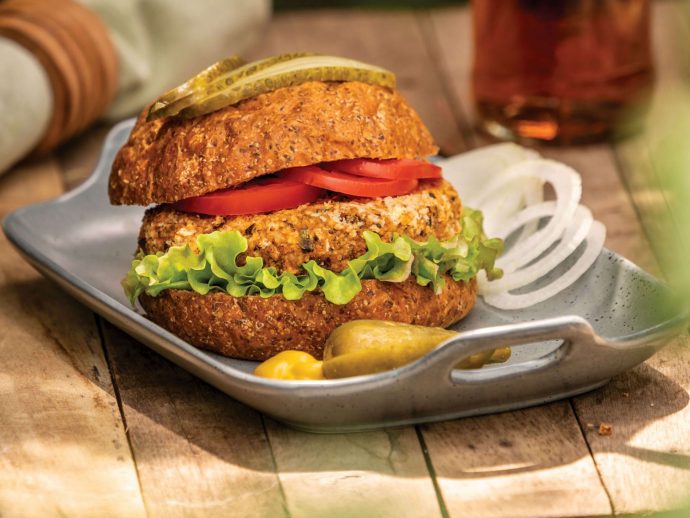 It's not always easy to eat healthy foods on a budget—or to make a meal that the whole family will like! By favoring big-batch, freezer-friendly recipes, smart menu planning, and whole foods whose prices aren't astronomically higher than their conventional counterparts, it's time to prove that anyone can eat well—without breaking the bank.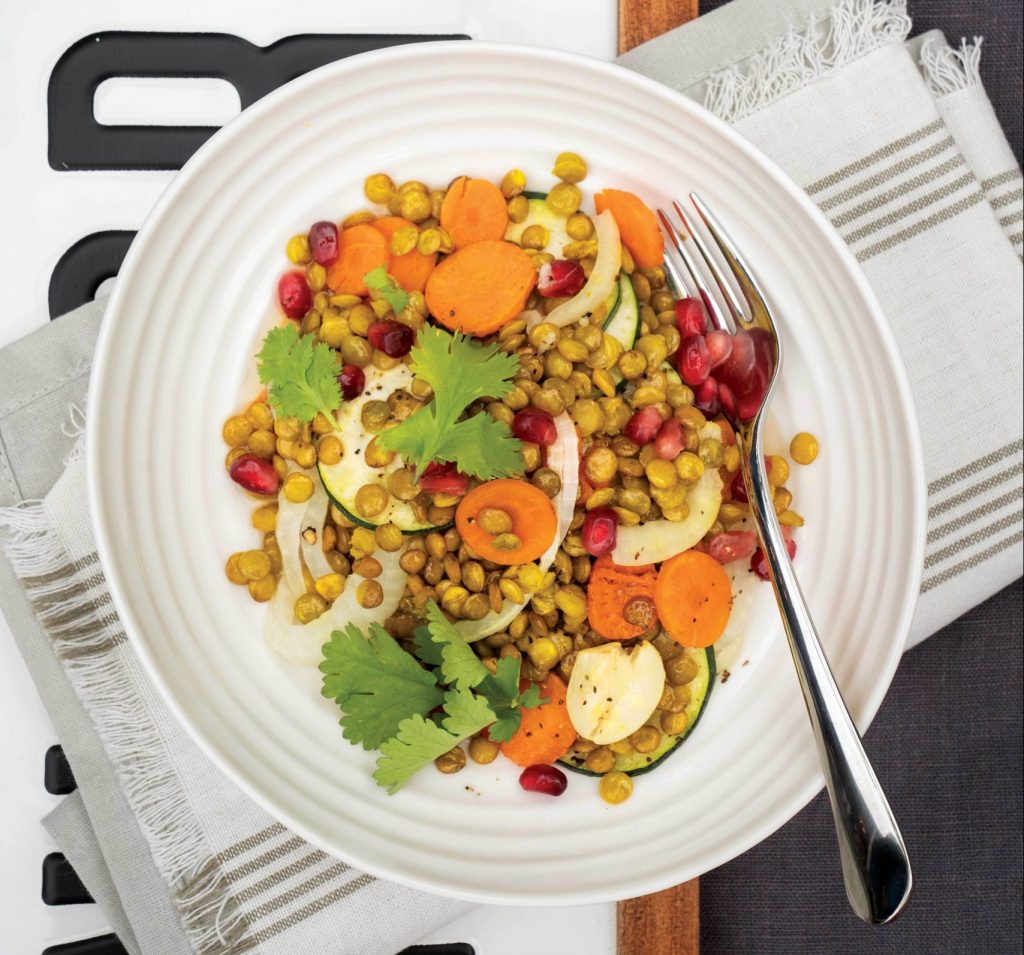 Lentil and Pomegranate Tray Bake with Roasted Veggies
This one-pan dish is the perfect combination of caramelized vegetables, tender lentils, and juicy pomegranate seeds, all drizzled with an addictive lemon sauce.
1 cup (250 mL) dried green or brown lentils
4 cups (1 L) water
1/2 tsp (2 mL) ground turmeric
1 bay leaf
1 tsp (5 mL) salt, divided
3 garlic cloves, peeled
1 onion, peeled and cut in 1/4 in (6 mm) slices
1 fennel bulb, trimmed and cut in 1/4 in (6 mm) slices
2 cups (500 mL) carrots, cut in 1/4 in (6 mm) slices
2 cups (500 mL) zucchini, cut in 1/4 in (6 mm) slices
1/4 tsp (1 mL) pepper
2 tsp (10 mL) olive oil
1/2 cup (125 mL) pomegranate seeds
Sweet lemon vinaigrette
2 Tbsp (30 mL) lemon juice
1 Tbsp (15 mL) honey or cane sugar
1/4 tsp (1 mL) pepper
1/4 tsp (1 mL) salt
1 Tbsp (15 mL) olive oil
1 roasted garlic clove, from above
Preheat oven to 400 F (200 C).
In medium pot, bring lentils, water, turmeric, and bay leaf to a boil. Reduce to medium-low and simmer, covered, for 20 minutes, or until lentils are tender. Drain well. Transfer to medium bowl and stir in 1/2 tsp (2 mL) salt. (Alternatively, you can use canned, drained, and rinsed lentils.)
On rimmed baking sheet, toss whole garlic cloves, onion, fennel, carrots, and zucchini with 2 tsp (10 mL) oil, pepper, and remaining 1/2 tsp (2 mL) salt. (If your baking sheet tends to stick, line with parchment paper before adding vegetables.) Add lentils. Bake in preheated oven for 25 minutes. Stir and return to oven for 10 minutes more. Remove 1 roasted garlic clove for vinaigrette.
For sweet lemon vinaigrette, in bowl or resealable jar, whisk or vigorously shake together lemon juice, honey, pepper, and salt. Slowly whisk in or shake in oil until emulsified. Press in pulp of 1 roasted garlic clove and whisk or shake to combine. Return garlic skin to vegetable tray. Taste and adjust vinaigrette with salt, lemon, or honey.
To serve, divide tray bake among 6 plates, top with pomegranate seeds, and drizzle with sweet lemon vinaigrette.
Serves 6.
Each serving contains: 215 calories; 10 g protein; 4 g total fat (1 g sat. fat, 0 g trans fat); 36 g total carbohydrates (9 g sugars, 14 g fiber); 541 mg sodium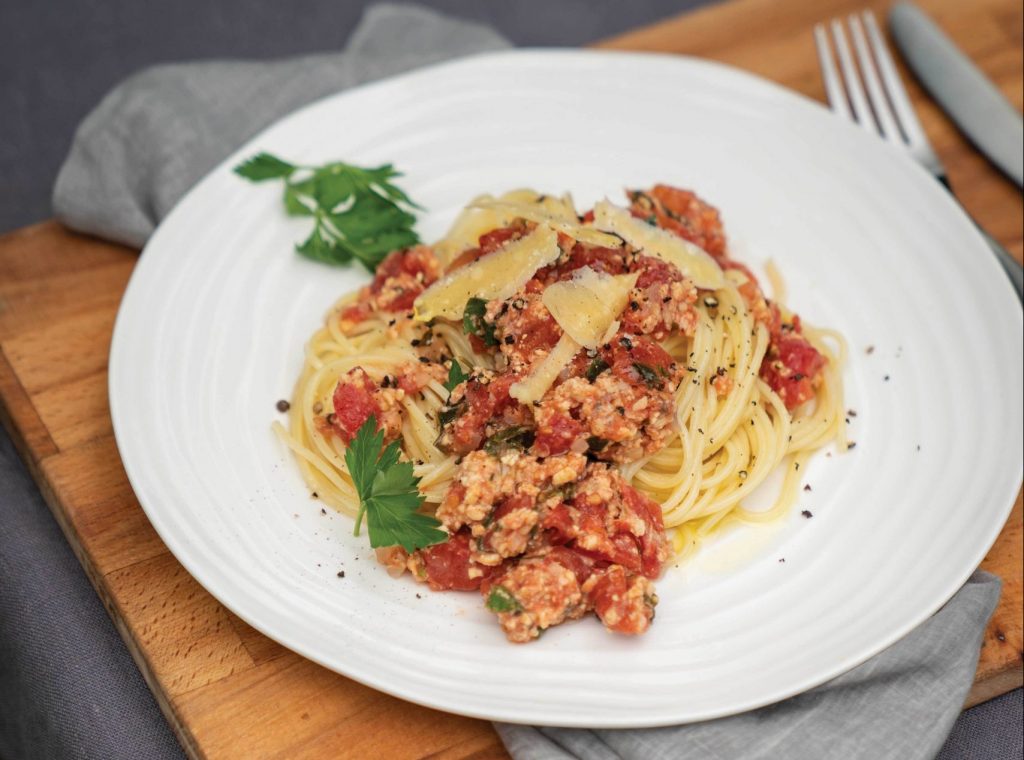 Vegan Bolognese
With savory, crumbled tempeh and a rich tomato sauce, this could quickly become your go-to plant-based pasta sauce.
8 large plum tomatoes
1 Tbsp (15 mL) olive oil
2 shallots, diced
1 to 2 tsp (5 to 10 mL) cane sugar (optional)
4 garlic cloves, crushed with flat side of knife and thinly sliced
1 cup (250 mL) sliced fresh parsley
1/2 cup (125 mL) red wine (optional)
8 oz (225 g) pkg tempeh, finely chopped or pulsed several times in food processor until crumbly
1/4 tsp (1 mL) salt
Freshly ground pepper
1/4 cup (60 mL) grated Parmiggiano-Reggiano, Romano, or vegan cheese (optional)
Slash an "X" in bottom of each tomato and blanch in boiling water until skins are loose and wrinkled, about 1 minute. Transfer one tomato to bowl of ice water. If its skin peels easily, add remaining tomatoes to ice bath. When cool, peel and dice tomatoes. In large sieve, drain excess liquid. (Alternatively, use one drained 28 oz (796 mL) can no-salt-added organic diced tomatoes.)
In large pot, heat oil over medium heat. When hot, add shallots and cane sugar (if using). Reduce heat to medium-low, cover, and cook for 10 to 12 minutes, until shallots are translucent and softened. Add garlic and all but a handful of parsley, re-cover, and cook for 5 minutes. Add wine, if using, and cook, uncovered, 5 minutes more, or until liquid is reduced by half. Add tomatoes, crumbled tempeh, salt, and pepper. Cook for 15 minutes, partially covered. Taste and adjust with salt, pepper, and sugar as needed.
Serve with any pasta. Top with remaining fresh parsley and grated cheese, if desired.
Serves 6.
Each serving contains: 171 calories; 12 g protein; 9 g total fat (2 g sat. fat, 0 g trans fat); 12 g total carbohydrates (3 g sugars, 1 g fiber); 114 mg sodium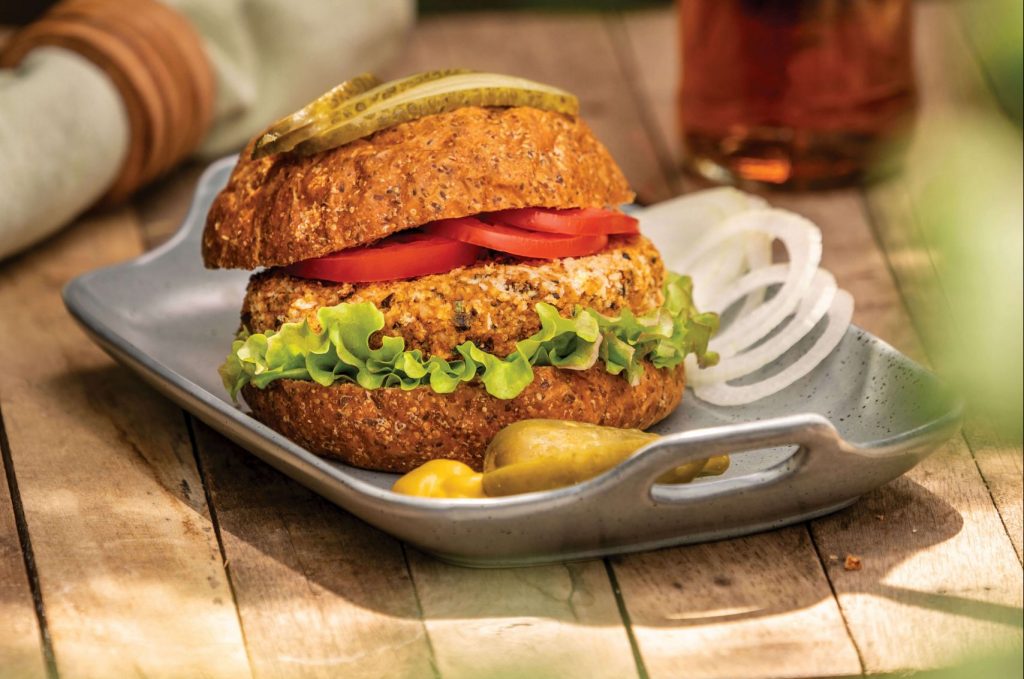 Black Bean and Sweet Potato Burgers
These panko-crusted burgers have an addictively crispy outside and are soft and chewy inside, with plenty of protein from cooked black beans.
2 to 3 sweet potatoes (to make 3 cups/750 mL mashed potatoes)
3 cups (750 mL) cooked black beans, or 2 – 14 oz (398 mL) cans, drained and rinsed
1/2 cup (125 mL) finely diced green onion
3 Tbsp (45 mL) gluten-free panko, divided
1 tsp (5 mL) grated lime or lemon zest
1 Tbsp (15 mL) ground cumin
1 Tbsp (15 mL) smoked paprika
3/4 tsp (4 mL) salt, divided
1/2 tsp (2 mL) pepper, divided
8 whole grain or gluten-free buns (optional)
Place whole, unpeeled sweet potatoes on baking sheet and roast in 415 F (210 C) oven for 30 minutes, or until soft, slightly deflated, and oozing caramelized sugars.
Cut sweet potatoes open in several places to help them cool, then peel and place in large bowl with beans, green onion, 1 Tbsp (15 mL) panko, lime zest, cumin, smoked paprika, 1/4 tsp (1 mL) salt, and 1/4 tsp (1 mL) pepper. Mash to combine. Sweet potatoes should be fairly smooth with some of the beans remaining whole to create a chewy texture. Use food processor if you prefer a smoother texture.
On small plate or in shallow bowl, combine remaining 2 Tbsp (30 mL) panko with remaining 1/2 tsp (2 mL) salt and 1/4 tsp (1 mL) pepper.
Build medium-hot fire in charcoal grill, or heat gas grill to medium-high and grease grill grates. Shape batter into 8 patties and coat in panko mixture. Grill for 10 minutes, then flip and grill for 5 minutes more, until panko is evenly toasted. Alternatively, preheat broiler and broil on low on greased or parchment-lined baking sheet for about 8 minutes, then flip and broil for 5 minutes more, or until toasted and crispy.
Serve on buns, if using, with ketchup, mustard, or salsa.
Serves 8.
Each patty contains: 152 calories; 7 g protein; 1 g total fat (0 g sat. fat, 0 g trans fat); 31 g total carbohydrates (3 g sugars, 6 g fiber); 255 mg sodium
Written by Amie Watson