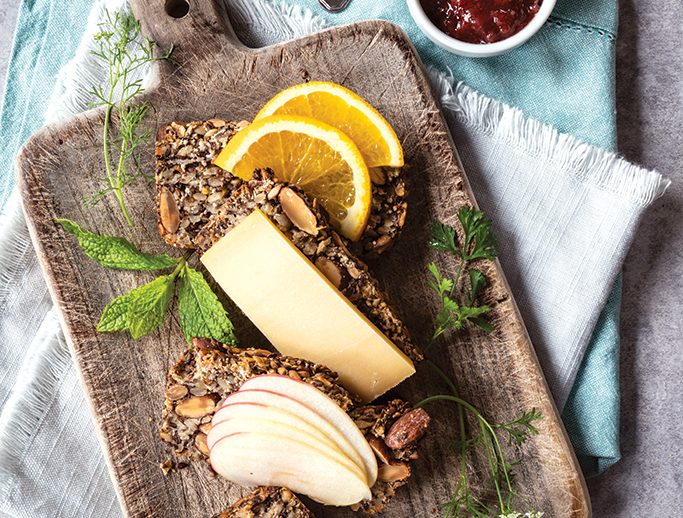 Tiny but mighty, seeds are nutritional powerhouses that prove great things come in small packages. Trust us: when it comes to these whole food-based recipes, there's nary a bad seed here.

Sesame Seed Crusted Salmon
SERVES 4
Sesame seeds add a nutritious crunch to buttery salmon and prove a weeknight meal can bring some gastro magic.
2 Tbsp (30 mL) white or yellow miso
2 Tbsp (30 mL) low-sodium soy sauce or tamari
2 Tbsp (30 mL) fresh lime juice
1 Tbsp (15 mL) minced ginger
2 tsp (10 mL) sesame oil
1/4 tsp (1 mL) crushed red pepper flakes
4 – 5 to 6 oz (140 to 170 g) wild salmon fillets
1/2 cup (125 mL) sesame seeds, preferably a mix of white and black
Preheat oven to 325 F (160 C).
Whisk together miso, soy sauce or tamari, lime juice, ginger, sesame oil, and crushed red pepper flakes. Brush tops of salmon with miso mixture.
Place fish on greased baking sheet, skin-side down, and sprinkle on sesame seeds. Bake until fish is cooked through, about 15 minutes.
Each serving contains: 382 calories; 34 g protein; 23 g total fat (4 g sat. fat, 0 g trans fat); 7 g total carbohydrates (0 g sugars, 3 g fiber); 581 mg sodium

Seedy Granola Cups with Vanilla-Scented Yogurt
SERVES 12
Who says granola needs to be served in a bowl with a spoon in hand? This adorable dessert requires no apology for going from hand to mouth.
1 1/4 cups (310 mL) quick-cooking oats
1/2 cup (125 mL) shelled sunflower seeds
1/3 cup (80 mL) ground flaxseed
1/2 cup (125 mL) dried cranberries or dried cherries
1/2 cup (125 mL) chopped dried apricots
1 tsp (5 mL) cinnamon
1/4 tsp (1 mL) salt
1 large egg
1/3 cup (80 mL) honey
1/4 cup (60 mL) melted and cooled coconut oil
1 1/2 cups (350 mL) plain Greek or Skyr yogurt
2 tsp (10 mL) vanilla extract
1/3 cup (80 mL) cacao nibs (optional)
Preheat oven to 350 F (180 C).
In large bowl, stir together oats, sunflower seeds, flaxseed, dried cranberries or cherries, apricots, cinnamon, and salt. In separate bowl, lightly beat egg and stir in honey and coconut oil. Add wet ingredients to dry and mix until everything is moist.
Divide mixture among 12 standard-sized silicone or greased metal muffin cups. Using damp fingers, press mixture down and up the sides of each muffin cup to form bowl shapes. Bake for 20 minutes, or until edges have browned. Let granola cups cool for several minutes in muffin pan to firm up further before unmoulding.
Stir together yogurt and vanilla. To serve, add dollops of vanilla yogurt to granola cups and sprinkle on cacao nibs, if using.
Each serving contains: 217 calories; 6 g protein; 10 g total fat (5 g sat. fat, 0 g trans fat); 28 g total carbohydrates (19 g sugars, 3 g fiber); 57 mg sodium

Salsa Verde Chicken
SERVES 4
Consider this easy, breezy recipe a little bit of comfort food with Latin flair for a howling winter night.
2/3 cup (160 mL) shelled pumpkin seeds
1 tsp (5 mL) cumin seeds
1 shallot, chopped
1 cup (250 mL) fresh cilantro
1 serrano or jalapeno pepper, diced
2 garlic cloves, chopped
2 cups (500 mL) spinach
6 fresh or canned tomatillos, husked (or tomatoes)
Juice of 1/2 lime
1 tsp (5 mL) dried oregano
1/4 tsp (1 mL) salt
2 tsp (10 mL) grapeseed oil or sunflower oil
1 1/4 lbs (550 g) boneless, skinless chicken thighs
2 cups (500 mL) sodium-free chicken or vegetable broth
2 cups (500 mL) cooked brown rice
1 avocado, diced
In large skillet over medium heat, toast pumpkin and cumin seeds until pumpkin seeds are golden and puffed, about 2 minutes. Remove to bowl of food processor to cool down. Grind seeds to the texture of coarse sand. Add shallot, cilantro, serrano or jalapeno pepper, garlic, spinach, tomatillos, lime juice, oregano, and salt to container; process until smooth.
Heat oil in skillet over medium-high. Add chicken and sear for 2 minutes on both sides. Pour in tomatillo mixture and broth. Bring to a boil, reduce heat, and simmer until chicken is cooked through to an internal temperature of 165 F (74 C), about 15 minutes.
To serve, spoon chicken and sauce over rice and scatter on avocado.
Each serving contains: 525 calories; 38 g protein; 27 g total fat (5 g sat. fat, 0 g trans fat); 35 g total carbohydrates (4 g sugars, 8 g fiber); 312 mg sodium
Written by Matthew Kadey, MSc, RD