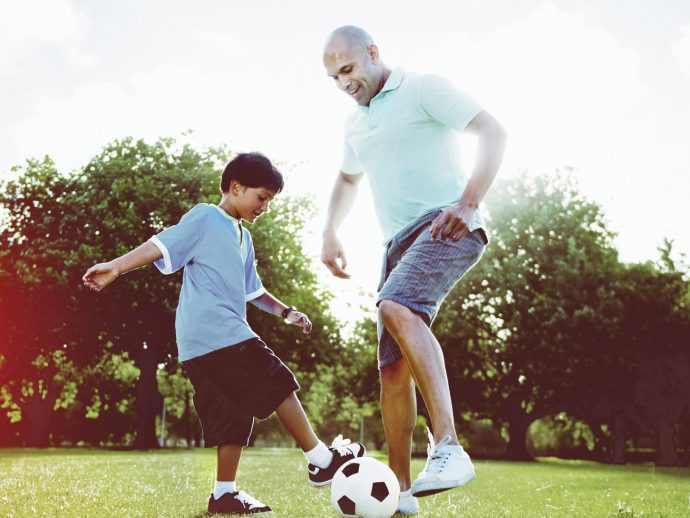 Exercise—it's not just for adults! Regular physical activity offers a world of benefits for children, but three out of five kids and teens don't get enough exercise. Become a fitness role model and inspire your entire family to get their sweat on.
Strong kids, stronger future: Why exercise matters
Regular physical activity supports your child's healthy development and reduces the risk of obesity, childhood diabetes, and other health concerns. But the benefits run even deeper.
"Helping kids move their bodies prepares their minds and behaviors for greatness," says Brooke Cavalla, a personal trainer and mother of three. "Exercise improves the way the brain functions, which gives kids a better ability to learn."
Exercise byproducts
Aside from improving your child's academic outcomes, regular physical activity also
improves mental health
boosts confidence and self-esteem
reduces stress and anxiety (a fast-growing problem in youth)
And what your child does today has ramifications long into the future. Studies have found that kids who exercise grow up to be adults who exercise.
"Children who learn healthy behaviors and the importance of fitness are more likely to continue making healthy lifestyle choices [as they get older]," says physical therapist Chanha Hwang. "A healthy childhood is the foundation for a healthy adulthood."
Movement for kids young and old
The amount of daily exercise your child needs depends on his or her age
| | |
| --- | --- |
| Age | Daily exercise recommendations |
| infants | at least 30 minutes of tummy time and floor-based play |
| toddlers | 180 minutes of physical activity |
| 3 to 4 years | 180 minutes of physical activity, at least 60 minutes being very energetic play |
| 5 to 17 years | 1 hour of moderate or vigorous physical activity, plus 3 days a week of age-appropriate muscle-strengthening exercises |
Many kids find it challenging to hit these numbers. Overcommitted schedules and lack of free time are often to blame, as well as a child's lack of confidence in their physical abilities.
Whatever the underlying causes, fitness role models can inspire kids into action. But we're not just talking about your child's sports heroes. As a parent or caregiver, you have the most influence on how your family perceives exercise and wellness.
How to be a better fitness role model
Lead by example
Focus on emotional/mental benefits (be cautious about inspiring children with a big sports win or a specific physical outcome)
Let children choose their own adventure (you might have an ultra-competitive child who thrives on team sports or you might have a child who enjoys time in nature and solo free play)
Focus on fun play and movement, not on "exercise"
Written by Joshua Duvauchelle