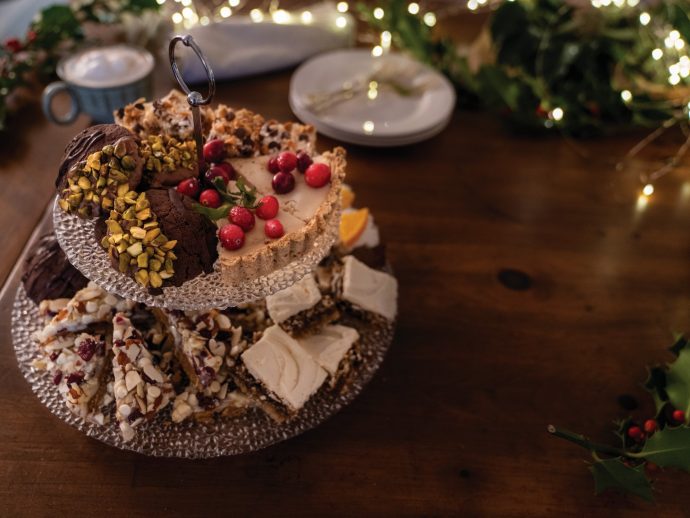 Everyone knows the holidays can be stressful. But it's not just the effort to stay on budget or the dinnertime antics of your oddball uncle that make this time of year challenging. Healthy eating can take a nosedive at this time of year, too. End your year on a high with proactive measures to avoid getting caught in the food trap.
Plan ahead
Joan Ifland, PhD is the chief executive officer of Food Addiction Training, LLC, and is a leading innovator in the field of recovery from food addiction. She shares some insights about how to prepare for the holidays and its associated overindulging.
At this time of year, the holiday gathering, with its lavish edible spread, is often the culprit. Simply saying you won't indulge may not be enough to spare you from getting sucked into that vortex of stress and indulging, Ifland warns.
"You get [to a party] and after an hour or two, you're eating [unhealthy foods]," she says. "It's because cravings and loss of control build up over time."
Instead, take your own snacks—think crudités, healthy proteins, or other foods that are as close to their natural, unprocessed shape and form as possible—and keep it near you. If that's not possible, avoid standing in a place with a clear view of the hors d'oeuvres table.
Drink water
Be sure to get a glass of water as soon as you arrive, and hang onto it. It keeps one hand busy, and reduces the chance of someone passing you a cocktail chock full of simple syrup and alcohol.
Be easy on yourself
Whatever happens, go easy on yourself, Ifland advises. Changing our behaviors to break the processed food addiction cycle can take years.
"There are so many foods that have been deliberately processed to make them addictive. It can take a couple of years to get off all of them. When people know it's a long, slow process, they give themselves permission to celebrate their wins."
What about alcohol?
Getting into the holiday spirit, for many, often means getting into the spirits. But pouring yourself a tall cold one to make things merrier might actually make the season far less bright.
Binge drinking increases around the holidays, which is often related to social or financial stress that comes with celebrating at this time of year. Stress and alcohol can create a toxic cocktail for our brains, no matter how much we might think we're being released from our inhibitions when we imbibe.
"Alcohol [can be] highly addictive," says Ifland. And it can have potentially serious consequences that include impairing cognitive skills and our self-control. While that might feel fun in the moment, any feelings of comfort and joy experienced while tippling are fleeting, Ifland warned. If you are concerned about your relationship with alcohol, chat with your doctor.
Written by Tiffany Mayer