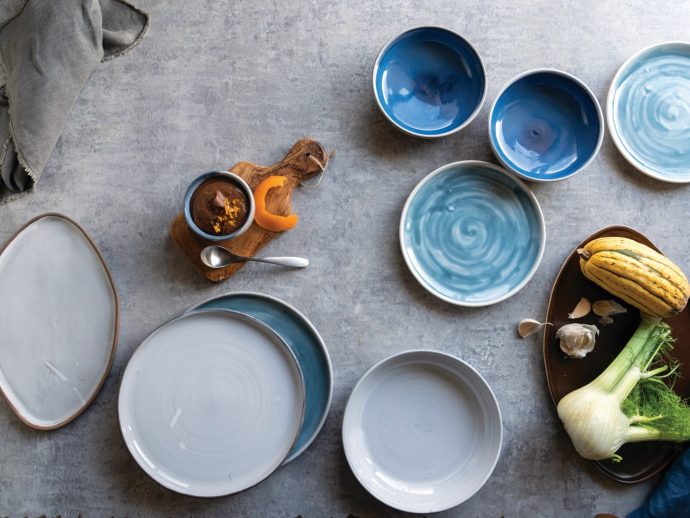 If you're looking to take your health and the well-being of your family to the next level this year, there are few better places to start than to wiggle more plant foods into your daily menu. Your health future will look brighter.

Tabbouleh with Kale and Navy Beans
This tabbouleh salad ages well, so it serves as a make-ahead meal that can keep for up to 3 days. A perfect plant-based option for weekday lunches!
1 cup (250 mL) sorghum grain
19 oz (540 mL) can navy beans, drained and rinsed
3 plum tomatoes, seeded and diced
3 cups (750 mL) finely chopped kale
1 cup (250 mL) finely chopped fresh parsley
1/3 cup (80 mL) golden raisins
1/3 cup (80 mL) unsalted shelled pistachios
Juice of 1 lemon
3 Tbsp (45 mL) olive oil
1/2 tsp (2 mL) salt
In saucepan, place sorghum and enough water to cover it by 2 in (5 cm). Bring to a boil, reduce heat to maintain a simmer, and cook, covered, until grains are tender, about 40 minutes. Drain well and spread out on a baking sheet to cool to room temperature.
In large bowl, toss together cooked and cooled sorghum, navy beans, tomatoes, kale, parsley, raisins, and pistachios.
In small bowl, whisk together lemon juice, olive oil, and salt. Toss lemon dressing with sorghum mixture.
Serves 4.
Each serving contains: 317 calories; 10 g protein; 12 g total fat (2 g sat. fat); 45 g total carbohydrates (9 g sugars, 10 g fiber); 534 mg sodium

Sheet Pan Golden Tofu Medley
This easy, yet impressive, vegan dinner is packed with oven-roasted flavor and proves that creating satisfying weeknight plant-based meals is entirely possible.
1/3 cup (80 mL) raw cashews
2 – 350 g pkgs. extra-firm tofu
2 1/2 tsp (12 mL) grapeseed oil or avocado oil
3/4 tsp (4 mL) salt
1 head broccoli, cut into 1 in (2.5 cm) florets
2 red bell peppers, sliced into 4 pieces and seeds removed
2 shallots, chopped
2 garlic cloves
1 Tbsp (15 mL) chopped ginger
1 tsp (5 mL) turmeric
1/4 tsp (1 mL) cayenne
1/4 tsp (1 mL) black pepper
Juice of 1/2 lime
In bowl, place cashews, cover with water, and let soak at least 2 hours.
Preheat oven to 425 F (190 C). Line two rimmed baking sheets with parchment paper or silicone baking mats.
Line a cutting board with a couple sheets of paper towel. Top with tofu and a couple more sheets of towel. Press gently for about 30 seconds to extract excess liquid. Slice each tofu block lengthwise into 2 slabs and then slice each slab into 2 triangles. Place tofu on 1 baking sheet and brush tops with 1/2 tsp (2 mL) oil and sprinkle on 1/4 tsp (1 mL) salt.
In large bowl, place broccoli florets and red pepper and toss with 1 tsp (5 mL) oil and 1/4 tsp (1 mL) salt. Spread vegetables out on second baking sheet. Place sheets in oven and bake for 25 minutes, until tofu is golden brown and vegetables are darkened in a few spots, stirring vegetables once halfway through the cooking time.
Meanwhile, in small skillet, heat 1 tsp (2 mL) oil over medium heat. Add shallots and garlic; heat 1 minute. Add ginger and heat 30 seconds. Stir in turmeric, cayenne, 1/4 tsp (1 mL) salt, and black pepper; heat 30 seconds.
Drain cashews and place in a blender with 1/2 cup (125 mL) water, lime juice, and contents of skillet. Blend until very smooth.
Divide tofu and vegetables among serving plates and drizzle with cashew sauce.
Serves 4.
Each serving contains: 436 calories; 30 g protein; 26 g total fat (4 g sat. fat); 25 g total carbohydrates (7 g sugars, 7 g fiber); 501 mg sodium

Chickpea Salad with Nigella Roasted Sweet Potato
Nigella seeds, also known as kalonji, lend a sweet, nutty flavor with an ever-so-slightly bitter edge that pairs perfectly with sweet potato's sweetness.
2 medium (about 300 g) peeled sweet potatoes, quartered and chopped into 1 in (2.5 cm) pieces
2 Tbsp (30 mL) olive oil, divided
1 tsp (5 mL) nigella (kalonji) seeds
1/4 tsp (1 mL) salt
2 Tbsp (30 mL) lemon juice
1 tsp (5 mL) lemon zest
1 tsp (5 mL) garlic, minced
1/4 tsp (1 mL) tahini
1/2 tsp (2 mL) black pepper
1 1/2 cups (350 mL) cooked chickpeas, rinsed and drained
1 cup (250 mL) grated peeled carrot
2 Tbsp (30 mL) finely chopped fresh cilantro
2 Tbsp (30 mL) finely chopped fresh parsley
2 cups (500 mL) loosely packed baby spinach, rinsed and spun dry
Place baking tray in oven and set temperature to 425 F (220 C).
Into large bowl, place sweet potato pieces. When oven reaches desired temperature, dress with 1 Tbsp (15 mL) olive oil, nigella seeds, and salt. Toss to coat evenly and pour immediately onto hot baking tray. Roast at 425 F (220 C) for 20 minutes, stirring once at the 10 minute mark, until tender and slightly browned, but firm.
Meanwhile, in large bowl, whisk together remaining 1 Tbsp (15 mL) olive oil, lemon juice, lemon zest, garlic, tahini, and black pepper. Add chickpeas and carrot and stir to coat evenly. Add cilantro and parsley, stir once more to incorporate, and allow mixture to marinate while sweet potato roasts.
When finished roasting, remove sweet potatoes from oven and allow to cool slightly. Add spinach to chickpea carrot mixture along with 1/2 the sweet potato cubes, and toss gently to avoid breaking them. To serve, arrange salad on large platter and place remaining sweet potato cubes on top. Be sure to scrape all toasted nigella seeds from baking pan.
Serves 4.
Each serving contains: 239 calories; 7 g protein; 9 g total fat (1 g sat. fat); 36 g total carbohydrates (10 g sugars, 8 g fiber); 220 mg sodium