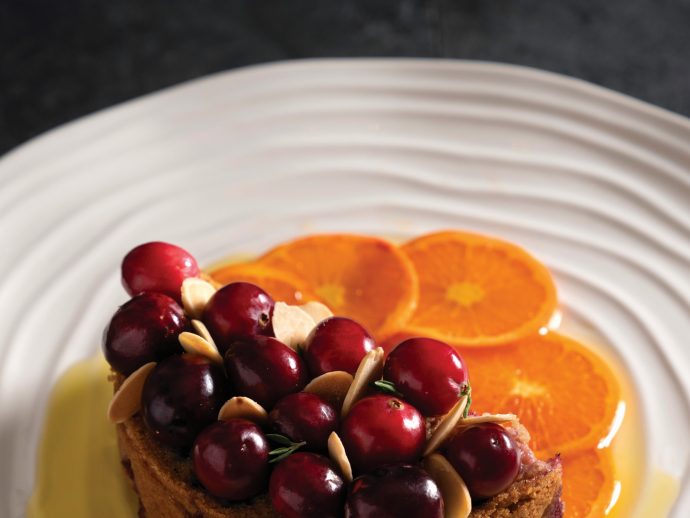 Red is a color commonly associated with passion and love, but red foods may have a direct effect on our heart health. The same pigments that give red foods their color, called anthocyanins, are also responsible for a host of health benefits, including reduction of inflammation in the body, and have been shown to help with heart health, playing a role in better cholesterol and triglyceride profiles.

Tuna-Stuffed Piquillo Peppers with Romesco-Style Sauce
When paired with a salad, this dish easily serves two as a main meal, but it will stretch to a few more as part of a tapas-style meal.
6 oz (170 g) can tuna, rinsed and drained
1/4 cup (60 mL) parsley
1 tsp (5 mL) lemon zest
1 Tbsp (15 mL) lemon juice
1/2 tsp (2 mL) black pepper
11 or 12 piquillo or sweet red peppers (drained contents of 9 1/2 oz/285 mL jar)
2 Tbsp (30 mL) whole hazelnuts
1 Tbsp (15 mL) olive oil
1 tsp (5 mL) sweet Spanish paprika
1 garlic clove, peeled
1/2 tsp (2 mL) sherry vinegar
2 tsp (10 mL) honey, divided
Preheat oven to 350 F (180 C).
In small bowl, with fork, mix together tuna, parsley, lemon zest and juice, and black pepper. Set aside.
Remove whole peppers from jar and set aside 6 to be stuffed. In bowl of food processor, place remaining peppers with hazelnuts, olive oil, paprika, garlic, sherry vinegar, and 1 tsp (5 mL) honey, and pulse to blend into a sauce. The texture will not be completely smooth.
Add about 2 Tbsp (30 mL) of sauce to tuna mixture and stir through. Spoon remaining sauce into small baking dish to make a base for stuffed peppers.
Stuff tuna mixture into 6 piquillo peppers and place them on top of the sauce in baking dish. Drizzle with remaining 1 tsp (5 mL) honey and bake for 15 to 20 minutes.
Serves 2.
Each serving contains: 345 calories; 27 g protein; 17 g total fat (3 g sat. fat); 20 g total carbohydrates (17 g sugars, 1 g fiber); 410 mg sodium

Red Berry Salad
Delicious, sweet berries and sharp red onion combine, with the help of some balsamic vinegar and a hint of basil, to make a classic salad.
2 Tbsp (30 mL) pumpkin seeds
1 cup (250 mL) sliced strawberries
1/2 cup (125 mL) whole raspberries
1/4 cup (60 mL) finely sliced basil
1 tsp (5 mL) balsamic vinegar
1/2 tsp (2 mL) maple syrup
1 Tbsp (15 mL) olive oil
1/4 tsp (1 mL) salt
1/4 red onion, sliced
5 cups (1.25 L) baby mustard greens or arugula
In large skillet, toast pumpkin seeds over medium-high heat, stirring frequently, until golden brown. Pour onto plate to cool and set aside.
In bowl, place berries, basil, vinegar, and maple syrup, and stir gently to coat. Set aside and allow to marinate for about 30 minutes. After time has elapsed, into large bowl, strain any liquid and add one or two raspberries, reserving the remainder.
Mash the two raspberries in liquid in large bowl, add olive oil and salt, and whisk together. Add red onion and greens and toss to coat. Arrange on large platter, placing reserved marinated berries on top. Sprinkle with pumpkin seeds and serve.
Serves 4.
Each serving contains: 85 calories; 2 g protein; 6 g total fat (1 g sat. fat); 8 g total carbohydrates (4 g sugars, 3 g fiber); 156 mg sodium

Spicy, Smoky Tomato-Braised Eggs
This simple yet luxurious dish is based on a dish from the south of Spain, similar to a North African shakshuka. It's a satisfying meal, equally at home on the dinner table as on the breakfast bar.
1 tsp  + 1 Tbsp (5 mL + 15 mL) olive oil, divided
1 red bell pepper
1 onion, halved and sliced lengthwise
1 tsp (5 mL) peeled, crushed garlic
1/2 tsp (2 mL) crushed red pepper flakes
1 tsp (5 mL) sweet smoked paprika
28 oz (796 mL) can whole tomatoes
1/4 tsp (1 mL) salt
1 Tbsp (15 mL) honey
1/4 tsp (1 mL) hot smoked paprika (optional)
1 cup (250 mL) chopped red chard
4 eggs
1 Tbsp (15 mL) chopped parsley
Turn oven broiler to high. Rub red pepper with 1 tsp (5 mL) olive oil and place in baking pan. Place pan under broiler. While watching carefully, turn pepper occasionally as each side blackens under the heat, about 10 minutes. When all sides of red pepper have been fully blackened, remove from oven and place in paper bag to cool.
Add 1 Tbsp (15 mL) olive oil to 9 in (23 cm) cast iron skillet and saute onion on medium-low heat for about 5 minutes, until soft. Add garlic and red pepper flakes, and continue to cook for a further 5 minutes, until garlic is translucent. Add sweet smoked paprika and tomatoes to pan, stir thoroughly to incorporate, and allow to simmer on medium heat for 20 to 30 minutes.
Once pepper is cool, peel and discard skin and seeds. Place flesh in food processor or blender and puree. Add pepper puree to tomato sauce with salt, honey, and, if desired, hot smoked paprika. Allow sauce to simmer for 15 minutes more. Add in red chard and mix through.
Crack eggs into individual pinch bowls or glasses and set aside. Press the bowl of a soup ladle into sauce, and pour in an egg. Then tip contents slowly into tomato mixture. Repeat with remaining eggs, arranging them evenly over surface of skillet. For soft eggs, simmer for approximately 10 minutes, covering halfway through. Sprinkle with parsley and serve with a warm tortilla or a piece of crusty bread.
Serves 4.
Each serving contains: 182 calories; 8 g protein; 10 g total fat (2 g sat. fat); 18 g total carbohydrates (13 g sugars, 4 g fiber); 241 mg sodium
By Helena McMurdo