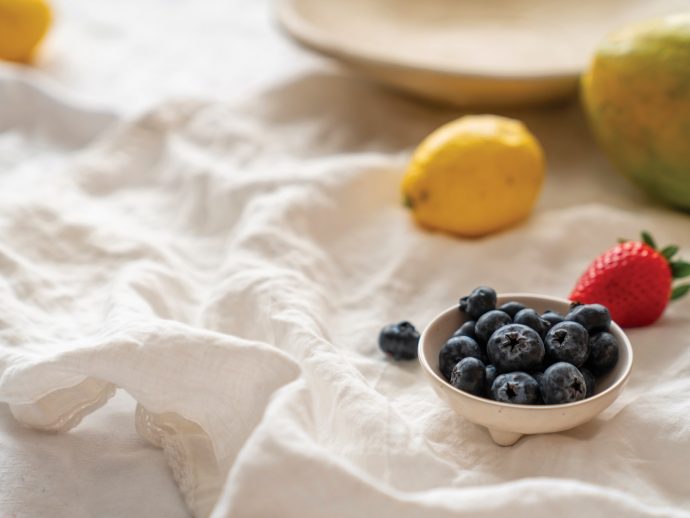 Bountiful, beautiful, and bursting with flavor, these fruit-filled recipes deliver your body what it wants without sacrificing great taste. Incorporating fruit into meals with a variety of colors, textures, and flavors keeps you feeling satisfied so you can focus on enjoying every bite. How sweet is that?

Berry and Rhubarb Granola Crisp
A one-dish solution to busy mornings, it's fruit and granola in a single delicious bake.
Topping
1 1/2 cups (350 mL) quick-cooking rolled oats
1 cup (250 mL) blanched whole almonds
1/3 cup (80 mL) lightly packed brown sugar or coconut sugar
1/2 tsp (2 mL) ground cinnamon
1/4 tsp (1 mL) salt
7 Tbsp (105 mL) coconut oil or unsalted butter, melted
Fruit filling
3 cups (750 mL) fresh or frozen sliced strawberries
2 cups (500 mL) fresh rhubarb, sliced into 1/2 in (1.25 cm) pieces
1/3 cup (80 mL) maple syrup
3 Tbsp (45 mL) orange juice
3 Tbsp (30 mL) arrowroot starch
Preheat oven to 350 F (180 C).
For topping, to blender or food processor, add all topping ingredients except coconut oil and pulse until the mixture resembles coarse sand. Pulse in coconut oil until combined; the mixture will stick together when pressed between two fingers.
For filling, in large bowl, mix to fully combine all filling ingredients. Tip into 8 x 8 in (20 x 20 cm) baking dish or 9 to 10 in (23 to 26 cm) round baking dish, spreading fruit evenly. Distribute topping overtop of fruit loosely.
Bake for 40 to 50 minutes, until rhubarb is tender when pierced with knife, and filling is bubbling around edges. Cool for at least 15 minutes before serving.
Serves 8.
Each serving contains: 323 calories; 5 g protein; 19 g total fat (11 g sat. fat); 36 g total carbohydrates (18 g sugars, 5 g fiber); 80 mg sodium

Grapefruit and Fennel Salad with Chicken and Avocado
A riot of textures and flavors, this salad offers something new in every bite.
Dressing
1/3 cup (80 mL) olive oil
1 Tbsp (15 mL) apple cider vinegar
1 Tbsp (15 mL) maple syrup
2 tsp (10 mL) Dijon mustard
1/4 tsp (1 mL) salt
1/8 tsp (0.5 mL) black pepper
Salad
4 cups (1 L) baby arugula
1 small bulb fennel, cored and shaved or thinly sliced
1/2 head radicchio, cored and torn into medium pieces
2 cups (500 mL) cooked chicken breasts or thighs, shredded
1 ripe avocado, flesh cut into cubes and scooped out
1 large grapefruit or navel orange, peeled and segmented or sliced
1/4 red onion, thinly sliced
2 Tbsp (30 mL) toasted sunflower seeds
2 Tbsp (30 mL) chopped fresh dill
In medium glass jar, shake to emulsify all dressing ingredients.
In large bowl, toss together arugula, fennel, and radicchio with two-thirds of dressing. Transfer to platter or divide among 4 shallow bowls. Top arugula mixture evenly with chicken, avocado, grapefruit, and red onion, and then drizzle over remaining dressing. Sprinkle sunflower seeds and dill overtop, and serve immediately.
Serves 4.
Each serving contains: 461 calories; 24 g protein; 33 g total fat (6 g sat. fat); 22 g total carbohydrates (10 g sugars, 7 g fiber); 280 mg sodium

Whipped Yogurt with Lime and Fruit
Lime, vanilla, and soothing honey turn Greek yogurt into a special occasion-worthy dessert.
1 cup (250 mL) plain Greek yogurt (at least 2% milk fat, without thickeners or gums), cold
3/4 cup (180 mL) heavy whipping cream (at least 35% milk fat) or chilled coconut cream, cold
3 Tbsp (45 mL) honey or maple syrup, plus more for serving
1/2 tsp (2 mL) lime zest, plus more for serving
2 tsp (10 mL) lime juice
1/2 tsp (2 mL) vanilla bean paste or vanilla extract
Pinch of salt
2 cups (500 mL) fresh fruit such as diced kiwi and mango, blueberries, and cherries, cold
To stand mixer fitted with whisk attachment, add yogurt, cream, honey or syrup, lime zest, lime juice, vanilla, and salt. Begin whisking on low to incorporate ingredients, then slowly turn the speed up to high and whip until thickened, 4 to 5 minutes. Cover and chill completely for 2 hours or up to 1 day, or serve right away (it will not be as thick if you skip the chilling).
To serve, spoon and swoop whipped yogurt into small bowls and top with fruit. Drizzle with additional honey and top with an extra sprinkle of lime zest. Serve immediately.
Serves 4.
Each serving contains: 319 calories; 28 g protein; 11 g total fat (8 g sat. fat); 28 g total carbohydrates (27 g sugars, 1 g fiber); 117 mg sodium
By Allison Day