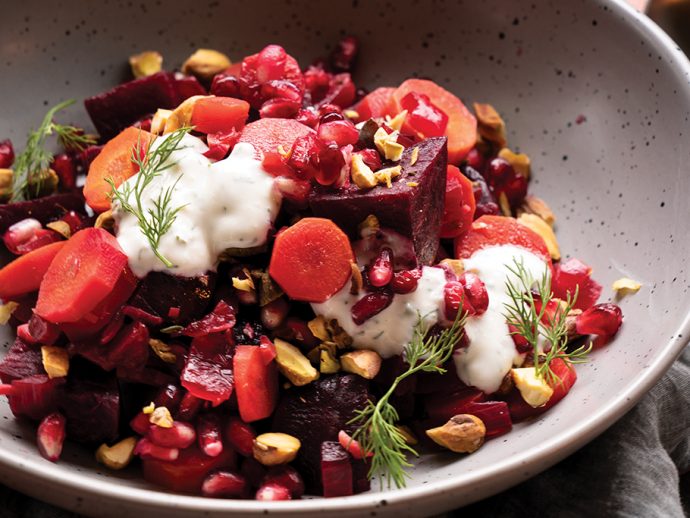 Good nutrition ultimately needs to pass the rainbow test. What's the rainbow test, you ask? Check out the color on your plate, because, when it comes to fruits and vegetables, the brighter the color, the more nutrient dense it likely is. Put color in your menu—your health will thank you!
Warm Roasted Beetroot "Borscht" Salad
SERVES 6
This dish is perfect for the end of the cold winter season and provides a flavor step into spring while still holding the flavors of winter roots.
Beetroot salad
2 tsp (10 mL) olive oil
1 medium sweet onion, peeled and diced
1 celery stalk, diced
2 large garlic cloves, minced
2 lbs (1 kg) red beetroots, peeled and cut into 1 in (2.5 cm) chunks
3 carrots, peeled and cut into 1/2 in (1.25 cm) coins
1 tsp (5 mL) salt
1 bay leaf
2 generous fresh thyme sprigs
1/4 cup (60 mL) pomegranate arils or green or red seedless grapes, halved
1/4 cup (60 mL) chopped toasted pistachios or walnuts
Horseradish dill cream
1/2 cup (125 mL) plain Greek yogurt
2 tsp (10 mL) horseradish, plus extra
2 tsp (10 mL) lemon juice
1/2 tsp (2 mL) maple syrup
1/4 tsp (1 mL) salt
2 Tbsp (30 mL) minced fresh dill, plus extra
In large, heavy-bottomed saucepan, heat olive oil over medium heat. Add onion, celery, and garlic, and stir to coat with oil. Sauté for 5 minutes, until onion is just beginning to soften. Stir in beets and carrots. Sprinkle with salt. Add bay leaf, thyme, and just enough water to cover vegetables. Bring to a gentle boil. Cover, reduce heat, and simmer for about 10 to 12 minutes, or just until vegetables are fork tender.
Meanwhile, make Horseradish Dill Cream. In small bowl, combine yogurt, horseradish, lemon juice, syrup, and salt. Stir to blend. Add more horseradish, to taste, if you wish. Stir in dill. Set aside.
When vegetables are tender, drain and transfer to large, shallow serving bowl. Remove bay leaf and thyme stems. Cool until no longer hot, about 15 minutes. Scatter with pomegranate arils and nuts. Drizzle with Horseradish Dill Cream and scatter additional fresh dill overtop. Serve at once.
Each serving contains: 163 calories; 5 g protein; 5 g total fat (1 g sat. fat, 0 g trans fat); 27 g total carbohydrates (18 g sugars, 5 g fiber); 165 mg sodium
Vegan Blueberry Crumble Top Tart
SERVES 10
Considered the king of antioxidant-rich foods, the rich blueberries in this delectable tart are especially amazing health givers.
1 cup (250 mL) oat flour
1/2 cup (125 mL) almond flour
1/2 cup (125 mL) coconut flour
1/4 cup (60 mL) coconut or raw sugar
1/3 cup (80 mL) coconut oil, softened, plus extra for oiling tart pan
2 Tbsp (30 mL) plain coconut or tofu yogurt
2 to 3 Tbsp (30 to 45 mL) ice water
3 cups (750 mL) fresh blueberries
2 Tbsp (30 mL) cornstarch
1 Tbsp (15 mL) coconut or raw sugar
3 Tbsp (45 mL) sliced natural almonds
Preheat oven to 400 F (200 C). With coconut oil, grease 9 in (23 cm) high-sided tart pan with removable bottom.
In food processor, combine oat, almond, coconut flour, and 1/4 cup (60 mL) coconut sugar. Pulse to blend. Add softened coconut oil and yogurt and pulse until crumbly. Add ice water, 1 Tbsp (15 mL) at a time, until mixture begins to stick together. Remove 1/4 of the mixture and place in small bowl. Refrigerate while preparing tart shell. Place remaining 3/4 of dough into oiled tart pan, pressing mixture into bottom and halfway up the sides.
In another bowl, combine blueberries with cornstarch. Sprinkle with 1 Tbsp (15 mL) sugar. Toss to evenly coat. Tumble into prepared tart pan. Remove remaining quarter of dough from refrigerator and add sliced almonds. Toss to mix. Sprinkle overtop of berries. Place tart pan on baking sheet and bake in lower third of preheated oven for 25 to 30 minutes until crust is golden. Remove to rack to cool. Refrigerate.
To serve, remove tart pan sides from chilled tart and cut tart into wedges. It's delicious with coconut yogurt infused with lemon zest.
Each serving contains: 240 calories; 5 g protein; 12 g total fat (7 g sat. fat, 0 g trans fat); 30 g total carbohydrates (14 g sugars, 6 g fiber); 4 mg sodium
Rainbow Prawn Salad
SERVES 4 AS A MAIN COURSE OR 8 AS A STARTER
Heart-healthy antioxidants with enormous eye appeal and delicious flavor—what more do you need in a dish?
Salad
3 cups (750 mL) spring greens
1 small, raw red beetroot, peeled and spiralized
1 small carrot, peeled and thinly shaved on the diagonal
1/2 cup (125 mL) sugar snap peas, blanched in lightly salted water
4 large red radishes, thinly shaved
2 endive, separated into leaves
1 cucumber, cut into matchsticks
1/2 cup (125 mL) thinly shaved red onion
1/2 cup (125 mL) pea shoots
1 Tbsp (15 mL) olive oil
8 large prawns, tail on, peeled, and deveined
1 tsp (5 mL) ground cumin
1/2 tsp (2 mL) smoked paprika
1/4 tsp (1 mL) salt
2 Tbsp (30 mL) toasted cashews, chopped
1 Tbsp (15 mL) sesame seeds
Dressing
1/4 cup (60 mL) tahini sauce
2 Tbsp (30 mL) lemon juice
1 Tbsp (15 mL) maple syrup
1 small garlic clove, smashed and minced
Pinch of salt
On large serving platter, scatter spring greens. Top with beet, carrot, snap peas, radishes, endive, cucumber, red onion, and pea shoots. Lightly toss to mix. Set aside.
In skillet, heat oil. In bowl, toss prawns with cumin and smoked paprika. Tumble into skillet and stir-fry over medium-high heat for 1 to 2 minutes, until almost opaque. Transfer to plate and cool. Season with a little salt.
In blender, combine dressing ingredients. Whirl until creamy. Add a splash or two of water, if necessary, to thin dressing as you like.
Place prawns on rainbow salad. Drizzle with dressing and scatter chopped cashews and sesame seeds overtop.
Each main course serving contains: 254 calories; 10 g protein; 15 g total fat (2 g sat. fat, 0 g trans fat); 24 g total carbohydrates (8 g sugars, 6 g fiber); 281 mg sodium
Written by Irene McGuinness