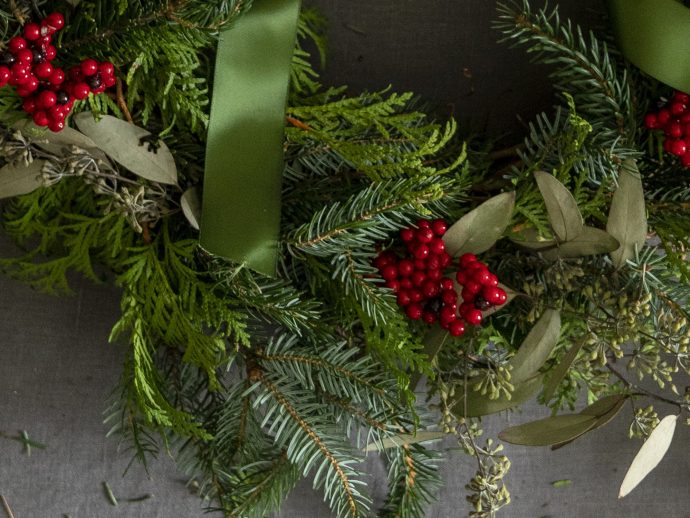 This wow-worthy, plant-based holiday meal won't disappoint—whether you nix the meat entirely or incorporate some of these recipes into your celebratory meal. This gluten-free, vegan menu has "festive" written all over it.

Stuffing with Thyme, Rosemary, and Dried Cranberries
In this plant-based stuffing, fresh herbs and dried fruit replace the depth of flavor usually infused by chicken juices, so use fresh thyme and rosemary if possible to maximize the flavor return.
3 fresh thyme sprigs, or 1/2 tsp (2 mL) dried
1 fresh rosemary sprig, or 1/2 tsp (2 mL) dried
1 loaf gluten-free bread, cubed, about 6 to 8 cups (1.5 to 2 L) cubes
1 cup (250 mL) chopped green onions
3 Tbsp (45 mL) chopped dried cranberries
2 cups (500 mL) low-sodium vegetable broth
Preheat oven to 350 F (180 C).
De-stem thyme and rosemary sprigs and coarsely chop. In large bowl, combine herbs with bread cubes, green onions, and dried cranberries. Add 1 1/2 cups (350 mL) broth and toss to coat. Bread should be moistened and slightly softened. Add remaining broth if needed (some gluten-free breads are denser than others).
Taste and add salt if desired. Grease or line 8 x 11 in (22 x 28 cm) baking or casserole dish with parchment paper. Transfer stuffing to dish and bake for 50 to 55 minutes.
Serves 6.
Each serving contains: 205 calories; 3 g protein; 2 g total fat (0 g sat. fat); 44 g total carbohydrates (8 g sugars, 6 g fiber); 257 mg sodium

Green Beans with Dukkah
Subbing Middle Eastern dukkah for classic toasted almonds with your green beans is like taking your first international trip (or the first in a long time …) and (re)discovering that there's a world of flavor out there.
1/4 cup (60 mL) hazelnuts
1/2 tsp (2 mL) whole fennel seeds
1 tsp (5 mL) whole cumin seeds
1 tsp (5 mL) whole black or green peppercorns
1 Tbsp (15 mL) whole coriander seeds
2 tsp (10 mL) white or black sesame seeds
1/4 tsp (1 mL) salt
1/8 tsp (0.5 mL) ground cayenne pepper (optional)
2 lbs (900 g) green beans, trimmed
1 tsp (5 mL) hazelnut oil (optional)
Preheat oven to 325 F (160 C). In nongreased baking dish, roast hazelnuts for 20 minutes.
Heat medium skillet over medium-high. When hot, toast fennel seeds, cumin seeds, peppercorns, and coriander seeds for 45 seconds, stirring occasionally to prevent burning. Seeds should start to pop. Transfer to spice grinder, mortar and pestle, or directly to food processor or blender. In same skillet, toast sesame seeds, stirring every 10 seconds or so, until aromatic and, if using white sesame seeds, golden. Transfer immediately to medium bowl.
Grind, or pulse all seeds except sesame seeds several times in blender or food processor, until lightly crushed and aromatic. Transfer to medium bowl with sesame seeds. Rub hazelnuts between kitchen towels to remove some of skins if needed, then coarsely chop in food processor (not in blender), or by hand. Add to bowl with crushed seeds. Stir in salt and optional cayenne.
Steam green beans for 5 to 7 minutes, until tender-crisp. Serve topped with dukkah and a drizzle of hazelnut oil, if desired.
Serves 6.
Each serving contains: 80 calories; 3 g protein; 4 g total fat (0 g sat. fat); 10 g total carbohydrates (2 g sugars, 5 g fiber); 105 mg sodium

Oyster Mushrooms with Garlic and Thyme on Caramelized Parsnip Puree
This dish is a plant-based showstopper, with tender mushrooms in a sweet-and-sour glaze soaking into ultra-thick roasted parsnip puree.
Caramelized parsnip puree
8 cups (2 L) water
1/2 tsp (2 mL) baking soda
2 lbs (900 g) parsnips, peeled and chopped into 1 in (2.5 cm) pieces
2 garlic cloves, peeled
1 Tbsp (15 mL) olive oil
1/4 tsp (1 mL) cane sugar
1/2 tsp (2 mL) salt
1/4 tsp (1 mL) pepper
Mushrooms
3/4 cup (180 mL) balsamic vinegar, or 6 Tbsp (90 mL) aged balsamic or balsamic glaze
1 tsp (5 mL) olive oil
14 oz (400 g) oyster mushrooms, cleaned and, if necessary, trimmed so they grill flat
1/4 tsp (1 mL) salt
1/4 tsp (1 mL) pepper
1/4 cup (60 mL) finely chopped green onion
2 thyme sprigs, stripped from stem, or 1/2 tsp (2 mL) dried
2 Tbsp (30 mL) toasted pistachios, roughly chopped
1/2 cup (125 mL) finely chopped chives, parsley, or green onion, to garnish
For parsnip puree, preheat oven to 400 F (200 C).
In medium saucepan, bring water, baking soda, and parsnips to boil. Reduce heat and simmer, covered, for 5 minutes. Drain parsnips, but don't rinse. Set aside until cool enough to handle, about 3 minutes.
In large bowl, combine parsnips with remaining ingredients for puree. Spread on baking sheet and roast for 10 minutes. Turn and roast for 10 minutes more, or until tender and caramelized. Transfer to large bowl and mash with potato masher or immersion blender, or transfer to food processor and blend until smooth. Taste and adjust seasonings.
For oyster mushrooms, in medium saucepan, boil balsamic vinegar until reduced by half, about 10 minutes. If using aged balsamic vinegar or glaze, skip this step.
In large skillet, heat oil over medium-high. When hot, add mushrooms, salt, and pepper and cook for 1 minute. Flip mushrooms and add balsamic reduction, green onions, and thyme and stir to coat mushrooms. Lower heat to medium-low; cover and cook for 5 minutes, or until mushrooms are tender, adding 1 Tbsp (15 mL) water to prevent sticking, if necessary. Taste and adjust seasoning.
To serve, spread parsnip puree on bottom of large platter. Place mushrooms on top. Top with toasted pistachios and garnish with chopped chives, parsley, or green onion.
Serves 4.
Each serving contains: 317 calories; 8 g protein; 8 g total fat (1 g sat. fat); 57 g total carbohydrates (17 g sugars, 12 g fiber); 663 mg sodium
Written by Amie Watson