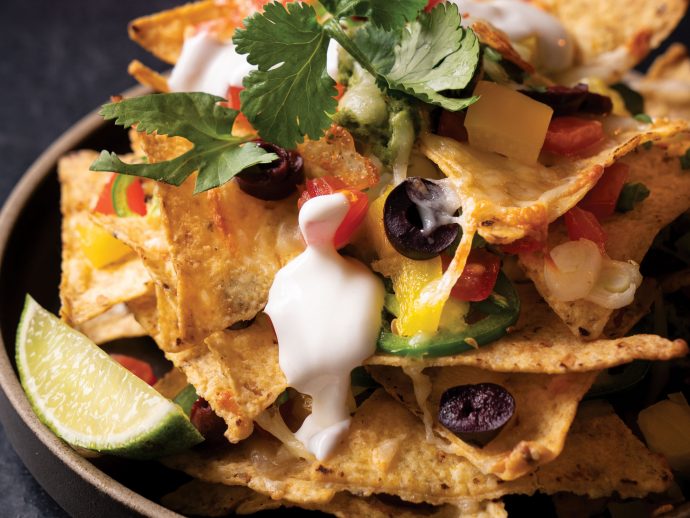 Do you eat foods that nurture your heart? Typically, brightly colored vegetables, oily fish that provide essential omega fatty acids, whole grains, nuts, legumes, tomatoes, and dark leafy greens provide amazing nutrients for heart health. Here are three delicious heart-healthy dishes to try.
Taco Tower with Spinach Hummus
SERVES 8
A warming winter taco meal is everyone's favorite. Coupled with a medley of diced veggies, it becomes an über-healthy crowd pleaser!
Lima bean spinach hummus
10 oz (300 g) box frozen lima beans
1/2 sweet onion, peeled and coarsely chopped
2 large garlic cloves, peeled and coarsely chopped
4 cups (1 L) lightly packed fresh spinach leaves
1/4 cup (60 mL) olive oil
Finely grated zest and juice from 1 lime
1 tsp (5 mL) ground cumin
1 tsp (5 mL) chili powder
1/2 tsp (2 mL) salt
1/4 tsp (1 mL) black pepper
1/4 tsp (1 mL) cayenne
Taco tower
12 oz (350 g) bag unsalted tortilla chips
1 cup (250 mL) grated Monterey Jack cheese
2 firm tomatoes, seeded and diced
1 yellow bell pepper, seeded and diced
3 jalapeno peppers, thinly sliced, plus extra if you wish
1/3 cup (80 mL) sliced olives, divided
4 whole green onions, thinly sliced
1/2 cup (125 mL) chopped cilantro, plus extra
1/4 cup (60 mL) plain yogurt
Fresh lime wedges (optional)
Fill medium saucepan with water and bring to a boil. Stir in lima beans, onion, and garlic. Return to a boil, reduce heat, and simmer, uncovered, for 5 minutes, until fork tender.
Just before beans have finished cooking, place spinach in sieve and plunge sieve into top of saucepan containing lima beans. Stir spinach in basket until blanched but still bright green. Shake spinach in basket, removing as much water as possible, and then place in high-speed blender or food processor.
Strain beans, onion, and garlic, reserving a little of the liquid, and add to spinach. Add oil, lime zest and juice, and the rest of hummus seasonings. Whirl, scraping down sides of bowl occasionally, until mixture is smooth. Add a splash of reserved water if needed to make mixture very creamy. Set aside.
Preheat oven to 400 F (200 C). Line pizza pan or baking sheet with parchment paper. Place a couple generous handfuls of chips on baking sheet in 9 in (23 cm) circle, avoiding gaps. Add dollops of hummus and scatter with 1/4 of grated cheese, 2 Tbsp (30 mL) sliced olives, 1/3 of tomatoes, 1/3 of yellow pepper, and 1 sliced jalapeno pepper. Repeat layers 2 more times, ending tower with green onions and cheese. If any hummus is left over, set aside for dipping.
Place pan in oven and bake for 12 to 15 minutes, until cheese is melted and bubbly. Scatter with cilantro and drizzle with yogurt. Serve with fresh lime wedges, if you wish.
Each serving contains: 374 calories; 12 g protein; 15 g total fat (5 g sat. fat, 0 g trans fat); 49 g total carbohydrates (3 g sugars, 6 g fiber); 327 mg sodium
Winter Warming Seafood Stew
SERVES 6
Taking under 30 minutes to prepare, this stew is perfect for a simple evening meal, but also beautiful enough to be served as an elegant dinner.
2 Tbsp (30 mL) olive oil
1 medium onion, diced
2 celery stalks, diced
2 large garlic cloves, minced
2 bird's eye (Thai) chilies (optional)
28 oz (796 mL) can fire-roasted diced tomatoes
3 cups (750 mL) fish stock or water
3 Tbsp (45 mL) tomato paste
Juice from 1 lemon
1 tsp (5 mL) smoked paprika
1 tsp (5 mL) ground cumin
1/2 tsp (2 mL) salt
1/2 tsp (2 mL) fresh thyme leaves
1/4 tsp (1 mL) black pepper
1/2 tsp (2 mL) maple syrup (optional)
1 lb (450 g) boneless, skinless ling cod, cut into 1 in (2.5 cm) cubes
1/2 lb (225 g) tail-on prawns, peeled and deveined
8 clams or mussels, scrubbed
1/4 cup (60 mL) finely minced fresh parsley
In heavy stockpot, heat oil. Add onion and celery and sauté over medium heat until onion is soft. Add garlic and chilies (if using) and continue to sauté for 1 more minute. Stir in tomatoes, stock, tomato paste, lemon juice, and seasonings, and bring to a gentle boil. Cover and simmer for 10 minutes for flavors to blend. Add maple syrup, if using. Add cod, prawns, and clams or mussels, and return to a simmer. Cover and simmer for 5 minutes or until seafood is almost opaque. Remove from heat. Remove chilies and discard. Remove any clams or mussels whose shells did not open. Add more seasonings to taste if you wish.
Ladle stew into serving bowls and sprinkle with parsley. Serve with crisp baguette toasts.
Each serving contains: 223 calories; 28 g protein; 6 g total fat (1 g sat. fat, 0 g trans fat); 14 g total carbohydrates (7 g sugars, 3 g fiber); 668 mg sodium
Crispy Oatmeal Coconut Wedges
MAKES 24 WEDGES
Here, we've combined oats with coconut, a little flaxseed, and some nutty hemp hearts to make a perfect treat that your heart will love.
1 cup (250 mL) large-flake gluten-free oats
1 cup (250 mL) gluten-free oat flour
1/2 tsp (2 mL) baking soda
1/4 tsp (1 mL) salt
1/2 cup (125 mL) coconut oil, at room temperature
3/4 cup (180 mL) coconut sugar
1 Tbsp (15 mL) ground flaxseed
3 Tbsp (45 mL) water
1 cup (250 mL) unsweetened medium shredded coconut
1/2 cup (125 mL) hulled hemp hearts (hemp seeds)
1 oz (32 g) dark chocolate, melted, optional
Preheat oven to 350 F (180 C). Grease 9 in (23 cm) tart pan with removable bottom.
In medium bowl, combine oats, oat flour, soda, and salt. Stir to blend. In separate medium bowl, combine coconut oil and coconut sugar. Stir with wooden spoon until creamy.
In small bowl, combine flaxseed and water. Stir to blend. Set aside for a couple of minutes to thicken. Add to oil and sugar mixture and stir in. Stir in oat mixture until completely blended, using your hands to work it together if necessary. Stir in shredded coconut and hemp hearts until blended. Alternatively, you can mix everything in a food processor and pulse until blended.
Transfer mixture to oiled tart pan and press into an even thickness, smoothing the surface. Bake in preheated oven for 25 minutes, until golden. Remove to rack to cool. If using chocolate, melt in bowl in microwave and drizzle overtop. Refrigerate before cutting into wedges. Best stored in the refrigerator.
Each wedge contains: 150 calories; 1 g protein; 10 g total fat (3 g sat. fat, 0 g trans fat); 4 g total carbohydrates (0 g sugars, 1 g fiber); 54 mg sodium