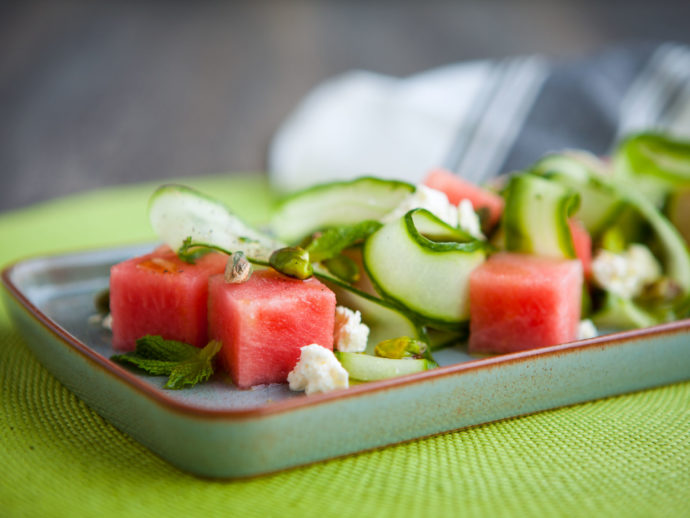 On a hot summer day, preparing a nutritious and tasty meal without heating up the kitchen—and sometimes the whole house—can be a challenge. The solution is to create a delicious salad.
Cucumber and Watermelon Salad with Feta Cheese
This salad, with its cool cucumbers and refreshing watermelon, is so thirst quenching it is like drinking a very flavorful glass of water!
2 English cucumbers, skin on
1 Tbsp (15 mL) finely chopped mint, and some leaves for garnish
1 cup (250 mL) crumbled feta cheese
3 cups (750 mL) cubed, de-seeded watermelon
Pinch of salt
1 Tbsp (15 mL) olive oil
1 Tbsp (15 mL) fresh lemon juice
1/2 cup (125 mL) chopped pistachios
Using vegetable peeler or mandoline, slice cucumbers very thinly lengthwise to create ribbons. Place in large bowl; add mint, feta, watermelon and salt.
In small bowl, whisk together oil and lemon juice and pour over salad. Let stand at room temperature for 30 minutes. Add pistachios, garnish with mint leaves and serve.
Serves 4.
Each serving contains: 266 calories; 10 g protein; 17 g total fat (6 g sat. fat, 0 g trans fat); 23 g total carbohydrates (14 g sugars, 4 g fiber); 363 mg sodium
Mock "Spaghetti" Salad
This is a perfect meal for when you crave spaghetti—but without the heaviness of noodles.
16 cherry tomatoes, halved
1 large garlic clove
Pinch of salt
1/2 tsp (2 mL) freshly ground black pepper
1 Tbsp (15 mL) balsamic vinegar
2 Tbsp (30 mL) olive oil
1/4 cup (60 mL) shredded fresh basil leaves, with some left whole for garnish
2 medium zucchinis
1/2 cup (125 mL) fresh mozzarella cheese, cut into bite-sized pieces
1 tsp (5 mL) freshly grated Parmesan
In small bowl, combine tomatoes, garlic, salt, pepper, vinegar, oil and shredded basil leaves; let sit at room temperature for 15 to 30 minutes.
Meanwhile, prepare zucchini spaghetti: using a turning slicer is the easiest way to achieve spaghetti-like strands, but a mandoline, vegetable peeler, or sharp knife will give you long, thin ribbons that you then just need to thinly cut lengthwise.
Place zucchini in large serving bowl, add tomato mixture along with mozzarella and Parmesan, toss to coat, garnish with whole basil leaves, and serve.
Serves 4.
Each serving contains: 142 calories; 5 g protein; 11 g total fat (3 g sat. fat, 0 g trans fat); 7 g total carbohydrates (5 g sugars, 2 g fiber); 118 mg sodium
Green Lentil Salad
You can cook your own lentils, or use canned to save time.
1/4 cup (60 mL) finely chopped parsley
1 garlic clove, grated
1 shallot, minced
1 Tbsp (15 mL) sherry vinegar
2 Tbsp (30 mL) grapeseed oil
2 cups (500 mL) cooked or canned green lentils
2 cups (500 mL) sorrel or baby spinach leaves
2 medium carrots, shredded
2 medium celery stalks, sliced thinly
1 red bell pepper, diced
In small bowl, combine parsley, garlic, shallot, vinegar and oil. Stir until well combined.
In large serving bowl, combine all remaining ingredients, add dressing and toss to coat. Serve immediately.
Serves 4.
Each serving contains: 182 calories; 8 g protein; 8 g total fat (1 g sat. fat, 0 g trans fat); 22 g total carbohydrates (5 g sugars, 6 g fiber); 260 mg sodium