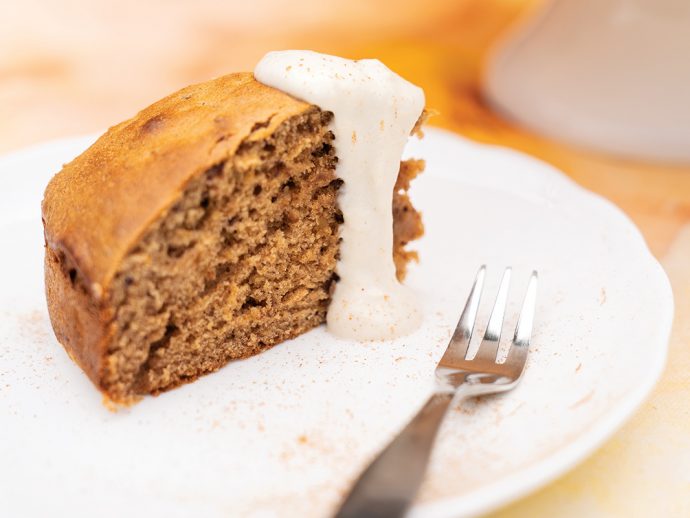 Add flair to your holiday meal this year! These fresh takes on festive recipes are sure to widen any cook's horizon and will definitely bring some fresh yum to your feast table.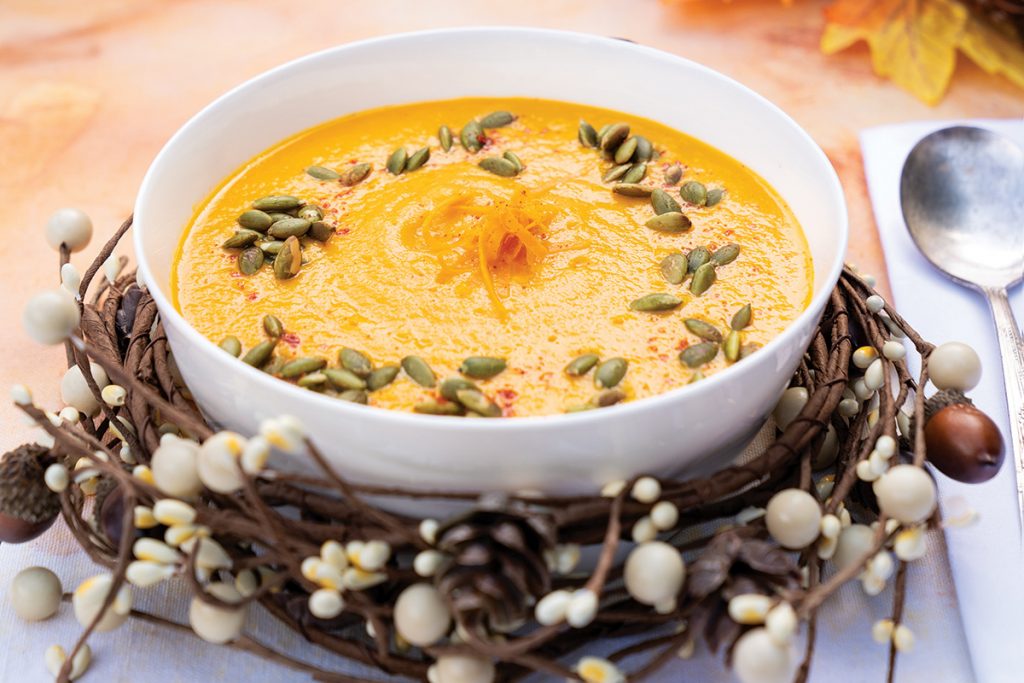 Citrusy Roasted Carrot Soup
Perfectly sweet, and a tad fiery, this offbeat soup is a great way to kick off a celebratory meal.
2 medium navel oranges
1 1/2 lbs (750 g) carrots, peeled and sliced into 1/2 in (1.25 cm) pieces
1 yellow onion, peeled and quartered
4 garlic cloves, peeled
1 Tbsp (15 mL) grapeseed or sunflower oil
1/2 tsp (2 mL) salt
1 in (2.5 cm) piece fresh ginger, peeled and chopped
2 tsp (10 mL) honey
1/2 tsp (2 mL) ground cumin
1/4 tsp (1 mL) cinnamon
1/8 tsp (0.5 mL) cayenne
1/4 cup (60 mL) toasted pumpkin seeds
Preheat oven to 400 F (200 C).
Zest oranges and reserve. Slice off remaining skin and white pith from oranges and divide each into halves.
In large bowl, toss oranges, carrots, onion, and garlic with oil and salt. On rimmed baking sheet, spread out and roast, stirring once, until carrots are softened, about 35 minutes.
In blender or food processor, place roasted vegetables and oranges along with 4 to 5 cups (1 to 1.25 L) water, orange zest, ginger, honey, cumin, cinnamon, and cayenne; blend until smooth. Do this in 2 batches, if necessary.
Warm soup in saucepan if needed and serve garnished with a pinch of cayenne and toasted pumpkin seeds.
Serves 6.
Each serving contains: 136 calories; 3 g protein; 5 g total fat (1 g sat. fat, 0 g trans fat); 21 g total carbohydrates (12 g sugars, 5 g fiber); 273 mg sodium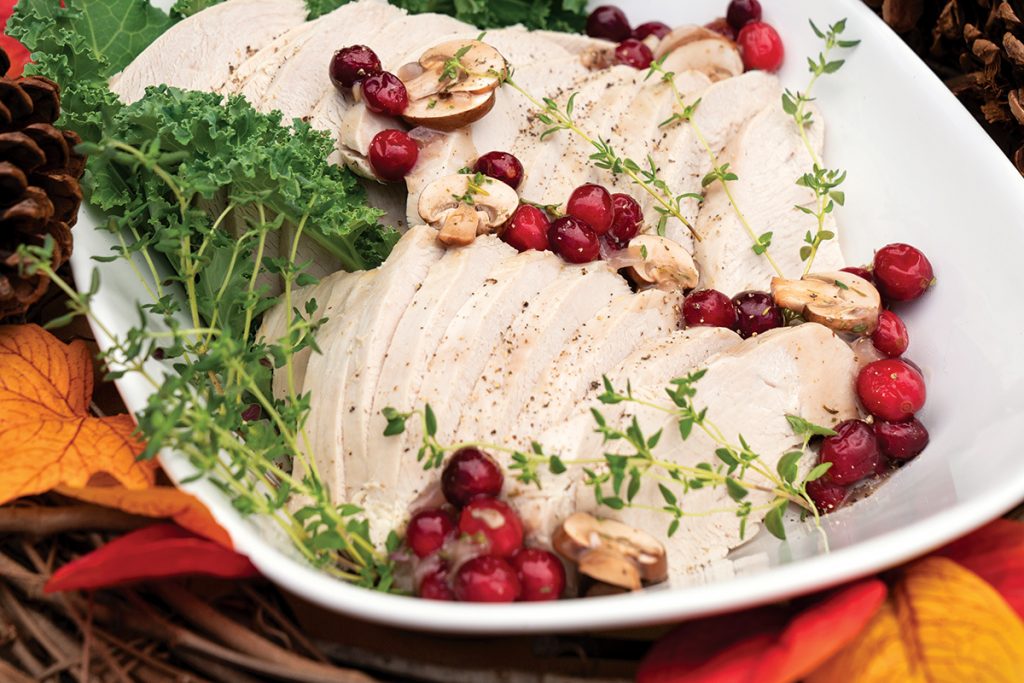 Poached Turkey with Cranberry-Mushroom Gravy
By employing this fuss-free poaching method, you'll free up oven space and have a better chance of serving up juicy meat.
Turkey
2 lbs (1 kg) boneless, skinless turkey breast
1 medium onion, peeled and halved
1 medium carrot, peeled and cut into thirds
1 celery stalk, cut into quarters
2 garlic cloves, smashed
3 fresh thyme sprigs
1/2 lemon, sliced
1/2 tsp (2 mL) salt
1 tsp (5 mL) whole peppercorns
Gravy
1 Tbsp (15 mL) unsalted butter
4 cups (1 L) sliced cremini mushrooms
2 shallots, chopped
2 garlic cloves, minced
1/2 tsp (2 mL) salt
1/2 cup (125 mL) dry white wine
2 Tbsp (30 mL) cornstarch
1 1/2 cups (350 mL) low-sodium vegetable or chicken broth
1 Tbsp (15 mL) fresh thyme
1/4 tsp (1 mL) black pepper
1 1/2 cups (350 mL) fresh or frozen cranberries
To poach turkey, in large saucepan, place breast, onion, carrot, celery, garlic, thyme, lemon, salt, and peppercorns. Add enough water to completely cover turkey by at least 1 in (2.5 cm). Bring water to a very slight simmer with just a few bubbles breaking the surface and cook, partially covered, for 20 minutes, or until meat is cooked through and an instant-read thermometer inserted into the thickest part of the meat registers 165 F (74 C). Adjust heat as needed during cooking to maintain the slight simmer (you don't want to boil the meat), and skim off any foam that forms on the surface of the water.
To make gravy, in medium-sized saucepan over medium heat, melt butter. Add mushrooms, shallots, garlic, and salt; cook until mushrooms have softened, about 5 minutes. Add wine, raise heat to medium-high, and boil until liquid has reduced by half, about 3 minutes.
Whisk cornstarch, 1 Tbsp (15 mL) at a time, into 1/2 cup (125 mL) of the broth. Add remaining broth, thyme, and pepper to gravy pan. Return to a boil and then stir in cornstarch-broth mixture and cranberries. Simmer until thickened, 6 to 8 minutes.
Slice turkey and place on serving platter. Serve with bowl of gravy alongside.
Serves 6.
Each serving contains: 241 calories; 38 g protein; 3 g total fat (2 g sat. fat, 0 g trans fat); 9 g total carbohydrates (2 g sugars, 2 g fiber); 404 mg sodium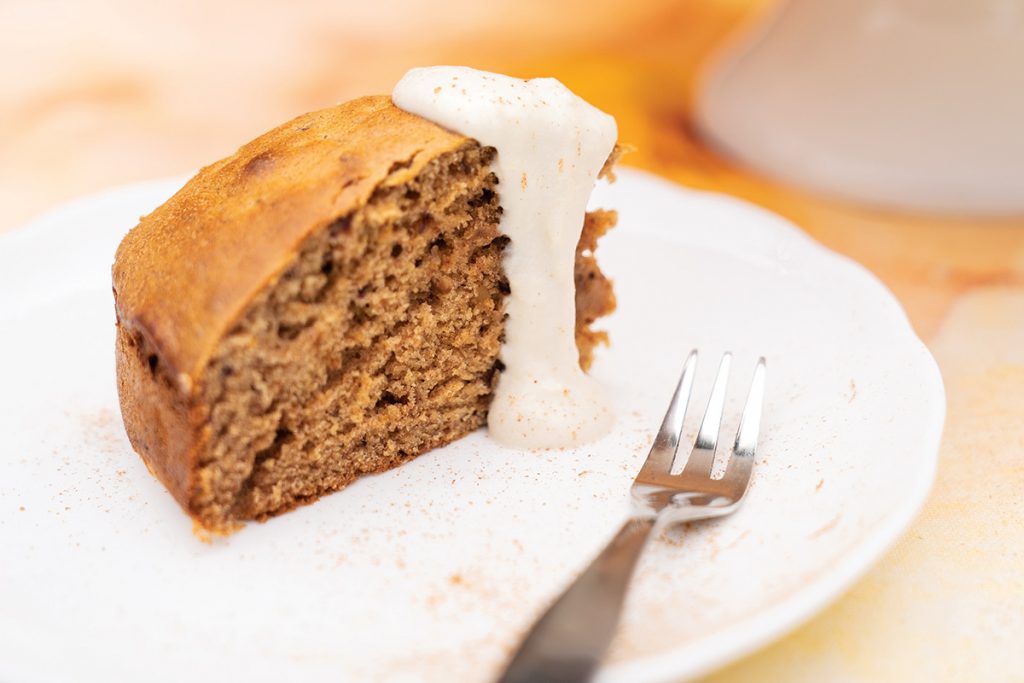 Sticky Toffee Pudding Cake with Maple Cream
This cake is not too sweet, not too rich, but still offers all the comfort (hello, maple syrup and warming spices) you want when finishing off a festive meal.
1 cup (250 mL) chopped Medjool dates
1/2 tsp (2 mL) baking soda
1 1/4 cups (310 mL) spelt flour
4 Tbsp (60 mL) maple syrup, divided
1 1/2 tsp (7 mL) vanilla extract, divided
1 tsp (15 mL) cinnamon
1/4 tsp (1 mL) ground cloves
1 tsp (5 mL) baking powder
1/4 tsp (1 mL) salt
1/4 cup (60 mL) melted and cooled unsalted butter
2 large eggs
2/3 cup (160 mL) raw unsalted cashews
In small bowl, place dates and baking soda; add 1/2 cup (125 mL) hot water and stir to dissolve the soda. Let soak for 15 minutes.
Preheat oven to 350 F (180 C). Line bottom of 8 in (20 cm) round cake pan with parchment paper and grease sides.
To blender or food processor, transfer dates and soaking water, and process until smooth. Add spelt flour, 3 Tbsp (45 mL) maple syrup, 1 tsp (5 mL) vanilla, cinnamon, cloves, baking powder, and salt. Process until well mixed. Add melted and cooled butter and eggs. Process until well mixed. Into prepared cake pan, pour batter. Bake cake until it's golden brown and springs back when you press it in the center, about 25 minutes. Let cool for 5 minutes before removing from pan and slicing.
To make Maple Cream sauce, in bowl, place cashews, cover with warm water, and let soak for at least 2 hours. Drain cashews, place in blender or food processor with 2/3 cup (160 mL) water, 1 Tbsp (15 mL) maple syrup, and 1/2 tsp (2 mL) vanilla; blend until very smooth.
Serve slices of cake topped with Maple Cream sauce.
Serves 8.
Each serving contains: 226 calories; 6 g protein; 6 g total fat (2 g sat. fat, 0 g trans fat); 41 g total carbohydrates (23 g sugars, 4 g fiber); 171 mg sodium
Written by Matthew Kadey, MSc, RD