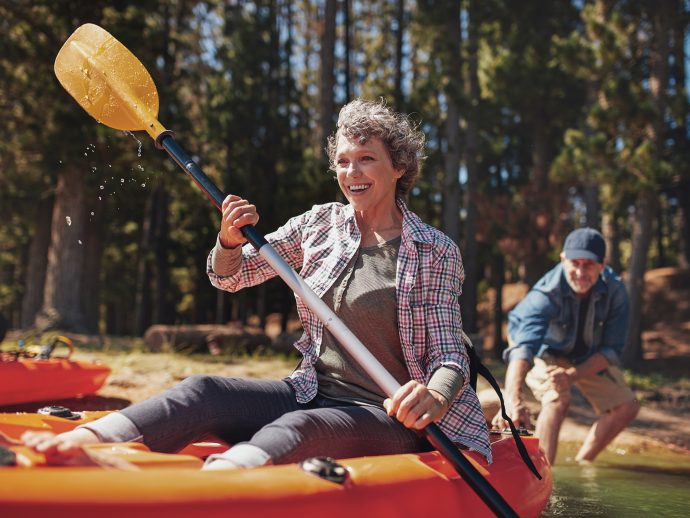 Nearing 50 can be our "second act," redefining our relationships, careers, and health. We're living better than ever, and we want to look as good as we feel. For real wisdom on beauty and aging, here's some advice from women in their fifties and sixties, and tips for aging with happiness and health.
Taking control
Natalie Dakers, 59, had "a moment of reckoning" at age 50. "I had this idea that the best part of my life was over … I realized, if I kept feeling this way, I'd be doomed by 60. I decided to take control, to make an effort, to get strong and healthy and engaged in the world."
Staying active and vital
Terry Bayuk, 68, credits workouts with helping her maintain her active lifestyle. Her focus is on mobility and injury prevention for kayaking and other outdoor pursuits. "Being in nature, taking in the beauty of my surroundings, appreciating all the shades of green: that's spirituality to me."
Being connected and grateful
Leslie Harris, 64, is a personal trainer and musician who's always been "obsessed with longevity." In addition to consistency in exercise and nutrition, Harris makes time every morning to reflect on three things she's grateful for.
Life lessons
These women can teach us that it's better to get ready for healthier aging now, rather than playing catch-up later. Looks aside, we can't enjoy life if our health and spirits suffer.
Making the most of midlife
Our interview subjects had many suggestions for aging well, and research backs them up. Activity and nutrition are the cornerstones of health, but what other factors can help us thrive?
Get social
Enjoy a group dinner, join a walking club, take a class, and meet new people. Of course, it's important to follow your local COVID-19 restrictions and safety measures.
Go outside
Forest bathing, beach walks—even gardening—connect us to the earth and reduce our stress levels.
Cultivate hobbies
Music, dance, languages, and art enrich our lives, and learning new things maintains cognitive health.
Let it go
Surround yourself with positive people. Treat yourself with kindness and compassion.
Take pride
Express yourself through fashion if you enjoy it. A manicure and a great haircut can help you feel your best.
Assemble a team
Hire someone to help you with workouts or healthy eating. Get professional help for issues or injuries and recognize that recovery may take longer.
Supplements for lifelong beauty
Getting nutrients from food is always the best route, but supplements can offer support where needed.
Vitamins C and E can support the skin, enabling it to maintain collagen and helping reduce sun damage.
Vitamin D levels are important to maintain—especially because you're protecting your skin from sun damage (right?).
Collagen peptides promise to plump the skin from the inside out, supporting elasticity and preserving the "bounce" of healthy skin.
Omega 3s can improve the health of skin as well as combatting dry, tired-looking eyes.