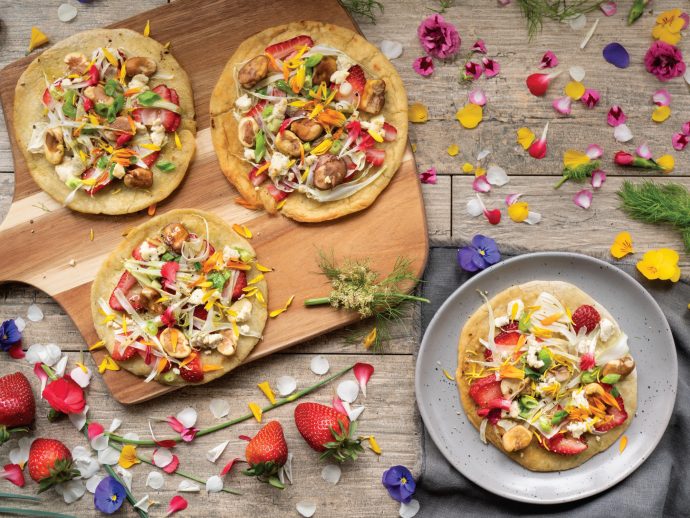 Looking to spice up your springtime meals? Why not try adding a sprinkle of edible flowers to your recipe repertoire? While undeniably eye-catching, many edible flowers also contain nutrients and compounds that can support healthy lifestyle goals.
Before plucking petals from a bouquet, try keeping these tips in mind. First, it's of the utmost importance that you avoid eating store-bought flowers unless you can confirm they're food safe, organic, and unsprayed. Instead, check out the herb section in many grocery stores.
Read on to discover colorful recipes that are sure to make your next meal blossom.
Rosy Granola
For a quick and simple breakfast, try serving this sprinkled over yogurt and garnished with fresh seasonal strawberries.
1 cup (250 mL) raw almonds, roughly chopped
1 cup (250 mL) raw cashews, roughly chopped
1 cup (250 mL) raw pumpkin seeds
2 Tbsp (30 mL) ground flaxseed
1 1/2 cups (350 mL) unsweetened coconut flakes
1/2 tsp (2 mL) ground cardamom
1/2 tsp (2 mL) sea salt
2 Tbsp (30 mL) coconut oil, melted
1/4 cup (60 mL) maple syrup
1/2 tsp (2 mL) rose water
1/3 cup (80 mL) dried rose petals
Preheat oven to 325 F (160 C). Line large rimmed baking sheet with parchment paper and set aside.
In large bowl, stir together almonds, cashews, pumpkin seeds, ground flaxseed, coconut flakes, ground cardamom, and salt.
In small bowl or pouring container, whisk together coconut oil, maple syrup, and rose water. Pour this mixture over nut mixture and stir together until well combined.
Spread granola mixture into single layer on prepared baking sheet. Bake for 15 minutes, gently stir with heatproof spatula, rotate pan, and return to oven until granola is golden brown and fragrant, about another 12 to 15 minutes. Place baking sheet on cooling rack and allow granola to cool to room temperature. Granola will harden as it cools.
Once cooled, stir in rose petals and store in airtight container for up to 1 month.
Serves 14.
Each serving contains: 261 calories; 7 g protein; 22 g total fat (7 g sat. fat, 0 g trans fat); 14 g total carbohydrates (5 g sugars, 4 g fiber); 90 mg sodium
Camomile Salmon Bowl
This dish is based on Japanese ochazuke—cooked rice served in green tea, water, or broth.
4 cups (1 L) water
1/4 cup + 1/4 tsp (60 mL + 1 mL) dried camomile flowers, divided
1/4 tsp (1 mL) salt
3/4 cup (180 mL) white sushi rice
3/4 tsp (4 mL) matcha green tea powder
1 Tbsp (15 mL) finely chopped roasted nori, about a 1/2 sheet
1 tsp (5 mL) toasted sesame seeds
2 oz (56 g) hot smoked salmon fillets, skin discarded and flesh flaked
2 radishes, thinly sliced
1/2 cup (125 mL) packed baby spinach leaves
1/3 cup (80 mL) cooked green peas
1 green onion, thinly sliced
In saucepan, bring water just to a boil over high heat. Remove saucepan from heat and stir in 1/4 cup (60 mL) camomile flowers and salt. Set aside and let steep for 8 minutes. Strain through fine mesh sieve into heatproof pouring container and set aside.
Meanwhile, place rice into mixing bowl and cover with cold water. Swirl rice in water, drain, and repeat 2 to 3 more times until water is clear.
Into small saucepan, place rice, matcha powder, and 1 cup (250 mL) camomile tea and place over high heat. Bring to a boil, uncovered. Once at a boil, reduce heat to low and cover saucepan. Cook for 15 minutes. Remove saucepan from heat, keeping covered, and let stand for 10 minutes.
In small bowl, stir together roasted nori, sesame seeds, and remaining 1/4 tsp (1 mL) camomile flowers crumbled between your fingers. Set aside.
Divide rice, salmon, radishes, spinach leaves, and green peas evenly between 2 serving bowls. Warm remaining camomile tea, if needed, in small saucepan over medium heat until just at a simmer. Pour tea around rice, salmon, and vegetables. Garnish with nori mixture and green onion and enjoy.
Serves 2.
Each serving contains: 412 calories; 15 g protein; 6 g total fat (1 g sat. fat, 0 g trans fat); 71 g total carbohydrates (7 g sugars, 5 g fiber); 674 mg sodium
Flowering Flatbread
This savory flatbread can be thrown together with premade flatbread, but consider making your own, as it's easy—and so delicious.
2 medium yellow potatoes, peeled and cut into chunks
1/2 cup (125 mL) hot water
1/4 cup (60 mL) chopped chives
1 cup (250 mL) tapioca flour or starch
3/4 cup (180 mL) brown rice flour
1/2 tsp (2 mL) salt
1 tsp (5 mL) baking powder
1 1/2 tsp (7 mL) avocado oil
1/2 small fennel bulb, trimmed and sliced paper thin
1/3 cup (80 mL) fava beans, blanched and shelled
2 green onions, thinly sliced on the diagonal
1 cup (250 mL) strawberries, washed, hulled, and thinly sliced
4 Tbsp (60 g) goat cheese or favorite nut-based cheese, crumbled
1/4 cup (60 mL) mixed herb flowers, petals, and leaves, such as chive, basil, and fennel
Start by making flatbread. Boil or steam potatoes until very tender. Drain and transfer to blender along with water and chopped chives, and blend until smooth.
In large bowl, whisk together flours, salt, and baking powder. Add 1 cup (250 mL) potato puree and mix to form a soft but slightly sticky dough. You can adjust the consistency of the dough by adding more potato puree or rice flour as needed. Divide dough into 4 equal pieces and set aside.
Heat large cast iron frying pan over medium high.
Working with one piece of dough at a time, roll out to about 1/4 in (0.6 cm) thickness between 2 pieces of parchment paper, using dusting of extra rice flour if dough is sticking. Place in hot frying pan and cook until starting to brown on underside, about 1 minute. Flip flatbread over and cook for another 30 seconds to 1 minute. Transfer to plate and drape clean kitchen towel overtop while repeating rolling and cooking with remaining dough. Once they're all cooked, flatbreads may be kept in airtight container and refrigerated for up to 4 days.
When ready to assemble flatbreads, set oven rack in top third of oven and preheat oven broiler.
Place flatbreads on baking trays and brush with avocado oil. Top each with some shaved fennel, fava beans, green onions, strawberries, and goat cheese. One tray at a time, place flatbreads in oven and broil until toppings are warmed through and starting to caramelize, about 5 to 8 minutes. Keep a close eye on flatbreads, as they can quickly go from cooked to burnt. Garnish with a generous sprinkle of herb flowers, petals, and leaves. Cook remaining flatbreads. Cut and serve while warm.
Serves 4.
Each serving contains: 418 calories; 7 g protein; 6 g total fat (2 g sat. fat, 0 g trans fat); 84 g total carbohydrates (3 g sugars, 5 g fiber); 356 mg sodium