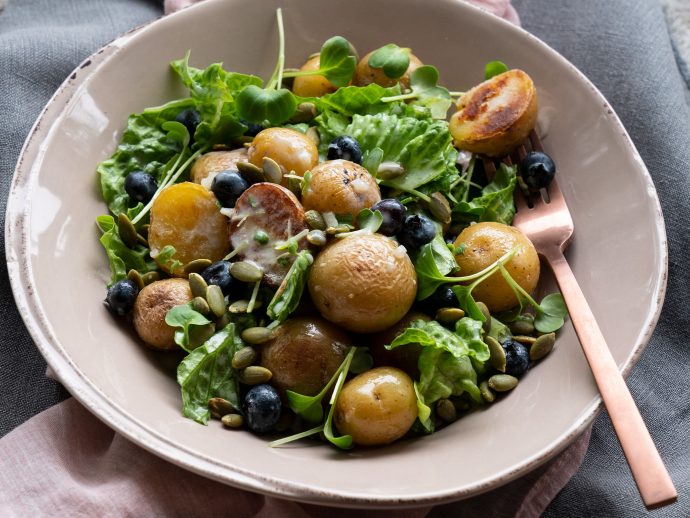 Looking to sharpen your thoughts? It's quite simple. By eating a diet rich in ingredients such as nuts, dark leafy greens, oily fish, avocados, dark berries, and legumes, you're feeding your brain with supportive nutrients. In our collection of clever recipes, we've included an assortment of brainy ingredients that'll help boost your brain health.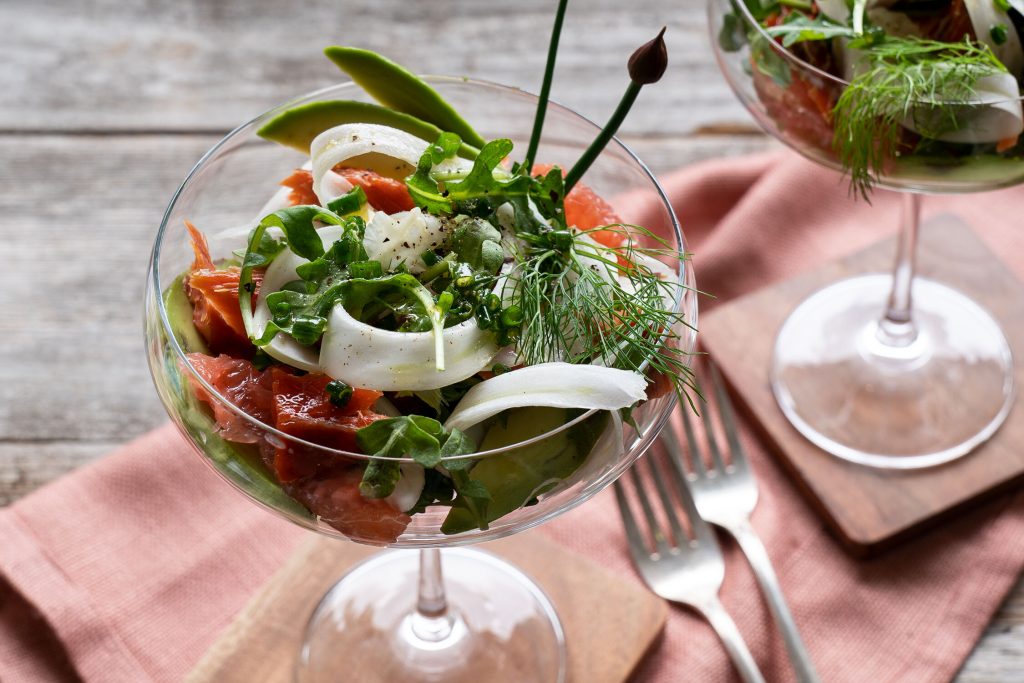 Avocado and Salmon Cocktails
With a blend of puckery grapefruit, peppery chives, and a hit of smoked salmon, this little starter brings a flavor explosion to the taste buds.
3 Tbsp (45 mL) olive oil
2 Tbsp (30 mL) chopped fresh chives
1 small red grapefruit
Pinch of salt (optional)
Pinch of freshly ground black pepper
2 cups (500 mL) baby arugula, washed and spun dry
1/2 small fennel bulb, thinly shaved
1 ripe but firm avocado, peeled, pitted, and sliced
2 oz (56 g) candied salmon nuggets
In small bowl, add olive oil and chives. Peel grapefruit, removing bitter white pith. Segment grapefruit, placing segments aside. Squeeze juice from grapefruit trimmings into bowl with olive oil. Whisk together and season to taste with salt and pepper. Set aside.
Divide arugula among 4 serving dishes. In medium bowl, add shaved fennel, avocado, and grapefruit segments. Flake salmon nuggets into small pieces and add. Drizzle with half the dressing. Lightly toss and divide mixture evenly overtop of arugula. Drizzle remaining dressing overtop and garnish. Serve immediately.
Serves 4.
Each serving contains: 191 calories; 4 g protein; 16 g total fat (2 g sat. fat, 0 g trans fat); 10 g total carbohydrates (0 g sugars, 3 g fiber); 19 mg sodium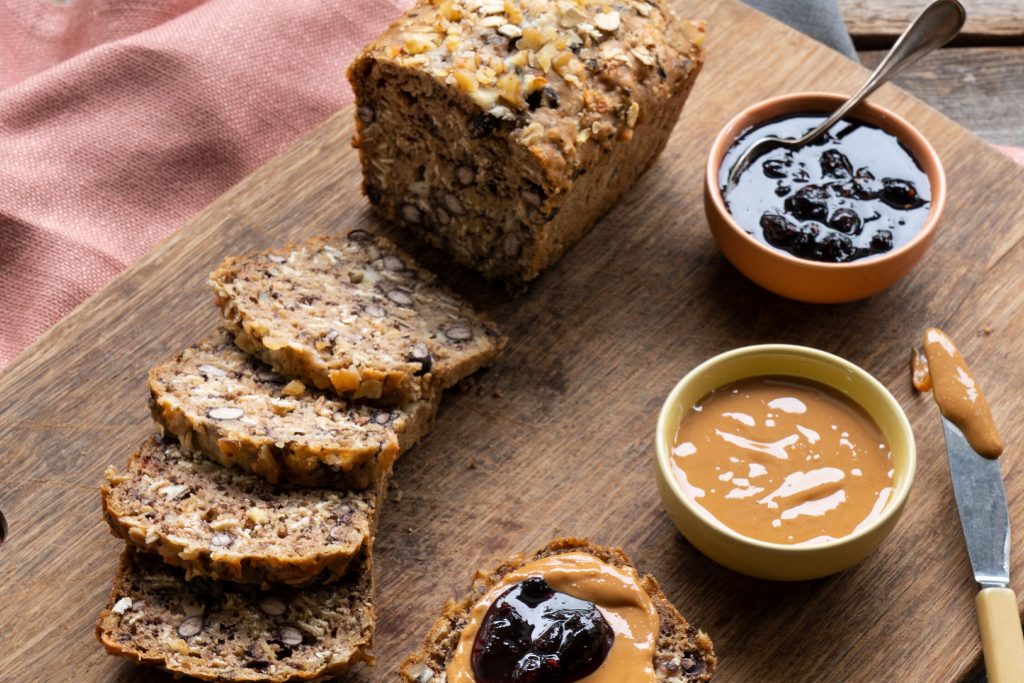 Savory Rustic Breakfast Cakes
Get your day off to a good start with these deliciously smart breakfast cakes.
19 oz (540 mL) can black beans or red kidney beans, drained
2 large eggs
1/3 cup (80 mL) maple syrup
1/4 cup (60 mL) avocado oil or olive oil
1 Tbsp (15 mL) orange or lemon juice
1 cup (250 mL) all-purpose or gluten-free flour
1 cup (250 mL) large flaked oats, reserving 1 Tbsp (15 mL) for topping
1 1/2 tsp (7 mL) baking powder
1 tsp (5 mL) baking soda
1/4 tsp (1 mL) salt
1/3 cup (80 mL) chopped walnuts, reserving 1 Tbsp (15 mL) for topping
1/3 cup (80 mL) crumbled feta, reserving 1 Tbsp (15 mL) for topping
Preheat oven to 350 F (180 C). Lightly grease 2 mini loaf pans, 5 x 3 x 2 in (13 x 8 x 5 cm), with oil and set aside.
Thoroughly drain beans. In blender or food processor, place half the beans along with eggs, maple syrup, oil, and orange juice. Whirl until almost smooth with some flecks of beans in the mix still showing. Set aside.
In medium bowl, place flour, oats, baking powder, baking soda, and salt. Stir to blend.
In small bowl, combine topping ingredients: reserved 1 Tbsp (15 mL) oats, walnut, and feta. Stir to blend.
Add wet ingredients to flour mixture and fold together until evenly mixed. Fold in remaining beans, walnuts, and crumbled feta. Divide mixture evenly among prepared mini loaf pans. Sprinkle with oatmeal, walnut, and feta topping and gently press into surface of batter. Bake loaves in preheated oven for 35 minutes or until pale golden and a cake tester inserted in center comes out almost dry.
Place pans on rack for 5 minutes before turning cakes out of pans to cool completely. Wrap and store in refrigerator for up to a week, or freeze for longer storage.
Makes 2 loaves or about 12 slices.
Each serving contains: 182 calories; 6 g protein; 9 g total fat (2 g sat. fat, 0 g trans fat); 22 g total carbohydrates (5 g sugars, 3 g fiber); 207 mg sodium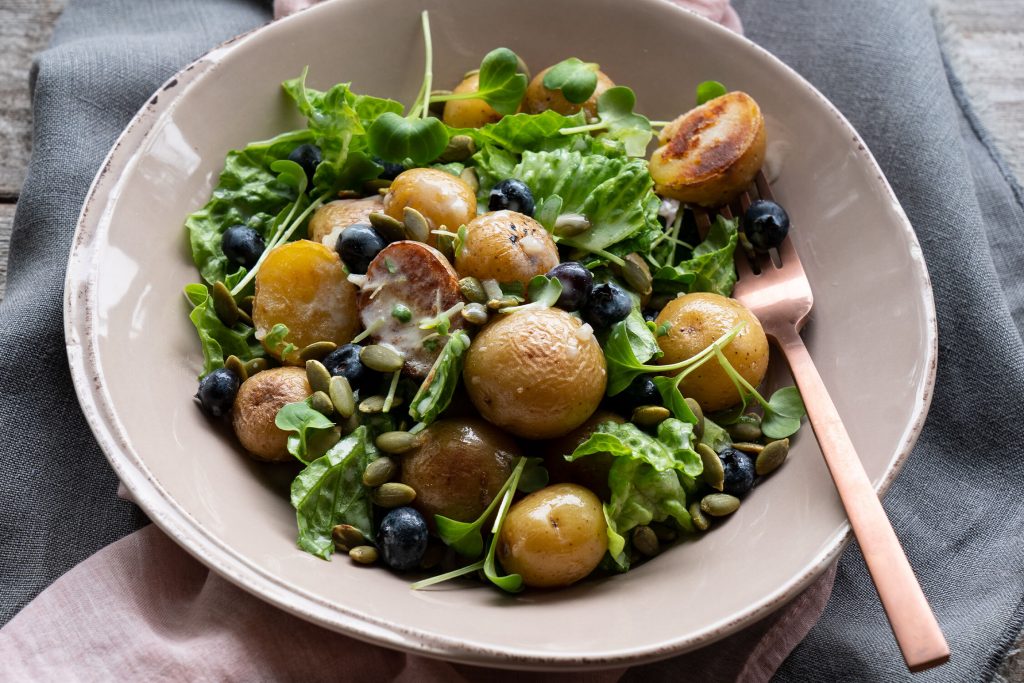 Warm Potato Salad with Blueberries, Pumpkin Seeds, and Lemon Yogurt Dressing
This delicious meal-in-a-bowl is a bright spin on a potato salad favorite.
Salad
1 lb (450 g) unpeeled new or fingerling potatoes
2 Tbsp (30 mL) olive oil
3 cups (750 mL) bite-sized pieces romaine lettuce
1 cup (250 mL) blueberries
1/2 cup (125 mL) raw pumpkin seeds, toasted
1/2 cup (125 mL) pea shoots or microgreens
Dressing
1/3 cup (80 mL) plain yogurt
1/3 cup (80 mL) fresh lemon juice
2 Tbsp (30 mL) honey
1 tsp (5 mL) Dijon mustard
1/4 tsp (1 mL) salt
1 small garlic clove, smashed and minced
In large saucepan, combine potatoes with enough water to cover by 1 in (2.5 cm) and bring to a boil. Reduce heat and simmer, uncovered, until potatoes are just tender when pierced, about 10 minutes. Drain and cool just until you can handle them. Cut potatoes in half, lengthwise.
In heavy frying pan, heat oil just until it begins to smoke. Add potatoes and cook, tossing occasionally, until lightly browned, about 5 minutes. Transfer to bowl and set aside to slightly cool.
While potatoes cool, in small bowl, combine dressing ingredients. Whisk to blend. Then fold lettuce, blueberries, and seeds into potatoes. Drizzle with dressing and scatter with pea shoots. Serve warm immediately.
Serves 4.
Each serving contains: 279 calories; 7 g protein; 9 g total fat (2 g sat. fat, 0 g trans fat); 47 g total carbohydrates (15 g sugars, 4 g fiber); 187 mg sodium
Written by Irene McGuinness