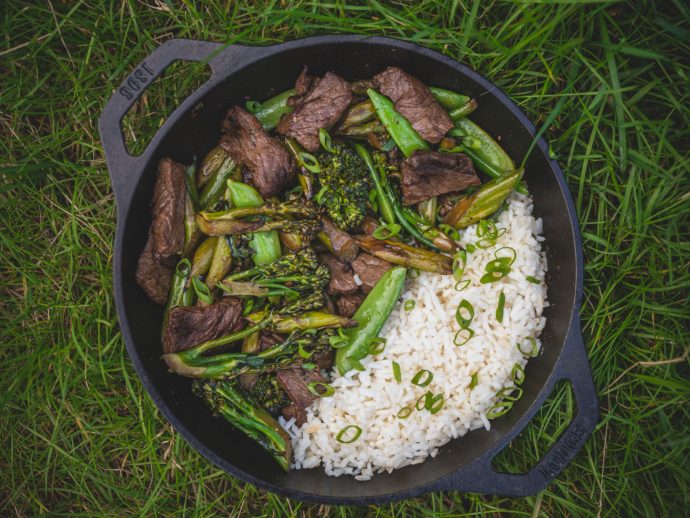 Cast-iron pans are nonstick, easy to clean, and add healthy minerals to food. Here are a few delicious dishes to try.

Coconut Curry Turmeric Trout
This quick curry is great with a variety of proteins. Seasoning the fish as soon as you've cut the fillets ensures the salt permeates the flesh, making for a more delicious result.
2 freshly caught trout, about 12 in (30 cm) long, skinned, filleted, and cut into 1 in (2.5 cm) pieces
Salt and pepper, to taste
1 tsp (5 mL) coconut oil
1 carrot, sliced
1 medium onion, sliced
1 fennel bulb, sliced, fronds reserved
1/2 tsp (2 mL) onion powder
1/2 tsp (2 mL) garlic powder
1/2 tsp (2 mL) ground ginger
1/8 to 1/4 tsp (0.5 to 1 mL) crushed red pepper flakes
1/8 tsp (0.5 mL) ground turmeric
13 1/2 fl oz (400 mL) can coconut milk
Sprinkle trout with salt and pepper.
In 12 in (30 cm) cast iron skillet, heat coconut oil and saute sliced carrots, onion, and fennel, with salt and pepper to taste, for 5 minutes. Add onion powder, garlic powder, ground ginger, red pepper flakes, and turmeric. Once spices are fragrant, add coconut milk. Cook for 3 minutes, until sauce thickens, then add trout, gently cooking it through, about 2 minutes.
Serve with rice and garnish with fennel fronds.
Serves 4.
Each serving contains: 341 calories; 34 g protein; 17 g total fat (8 g sat. fat); 11 g total carbohydrates (6 g sugars, 3 g fiber); 163 mg sodium

Salmon, Polenta, and Charred Vine Tomatoes
This twist on a classic gremolata uses fish-friendly dill and parsley and cuts through the creamy richness of the polenta.
Polenta
4 cups (1 L) water
1 vegetable (or chicken) bouillon stock cube
1 Tbsp (15 mL) butter
1 cup (250 mL) cornmeal
1/2 cup (125 mL) grated Parmesan
Salt and pepper
Gremolata
1 lemon, zested and juiced
1 garlic clove, peeled and minced
1/2 cup (125 mL) chopped fresh dill
1/2 cup (125 mL) chopped fresh parsley
10 on-the-vine cherry tomatoes
1 Tbsp (15 mL) canola oil or other high-smoke oil
4 – 4 oz (113 g) salmon fillets, with skin
Pinch salt, to garnish
For polenta, in medium saucepan, bring water to a boil, then add stock cube and butter. Whisk in cornmeal and cook for 15 to 20 minutes, covered, stirring every few minutes, depending on how hot the fire is. If polenta starts to stick or burn, reduce heat or add water. Whisk in Parmesan. Season, to taste, and set aside pot.
Meanwhile, for gremolata, in medium bowl, combine lemon juice and zest with garlic, chopped dill, parsley, and pinch of salt.
Over medium-high, heat 12 in (30 cm) cast iron skillet. Be patient; the pan is hot enough when you place a hand above it and feel a fair bit of heat, about 3 to 4 minutes. Add tomatoes, still on the vine, and cook until lightly charred but not bursting. Remove tomatoes from pan.
For salmon, add oil to pan. When hot, add salmon, skin side down. Cook until the line of opacity reaches halfway up the side of salmon, about 2 minutes. Flip and cook for 30 seconds to 1 minute longer. If the two lines of opacity meet, the fish will be overcooked, so remove them sooner rather than later.
To serve, plate polenta and fish and top with gremolata, and place tomatoes on the vine alongside. Sprinkle with salt.
Serves 4.
Each serving contains: 364 calories; 32 g protein; 14 g total fat (6 g sat. fat); 30 g total carbohydrates (2 g sugars, 5 g fiber); 508 mg sodium

Prawn Pasta
Simple and quick, this prawn pasta combines seafood with a touch of heat. If you can't find a fresh Fresno chili pepper, use a red jalapeño or a tiny bit of fresh cayenne pepper instead.
7 oz (200 g) squid ink conchiglie (shell pasta)
Several garlic cloves, peeled
1 Fresno chili pepper
1/2 cup (125 mL) fresh parsley
2 Tbsp (30 mL) chili oil or regular high-heat oil
1 lb (450 g) sustainable shrimp, in their shells, heads removed
Juice of 1/2 lemon
Salt, to taste
Pepper
In large pot, boil pasta until tender. Drain and set aside.
Meanwhile, chop garlic, chili pepper, and parsley.
In 12 in (30 cm) cast iron skillet, heat chili oil. Add shrimp and fry for 1 minute on each side. Remove to cutting board.
Add pasta to skillet (don't wipe it out first) and add garlic and chopped chili. Cook for 30 seconds, then add pasta and toss to coat. Return shrimp to skillet, stir in parsley, and squeeze lemon juice overtop. Sprinkle with salt and pepper.
Serves 2.
Each serving contains: 721 calories; 62 g protein; 18 g total fat (0 g sat. fat); 78 g total carbohydrates (4 g sugars, 3 g fiber); 431 mg sodium
Written by Teddy Cosco