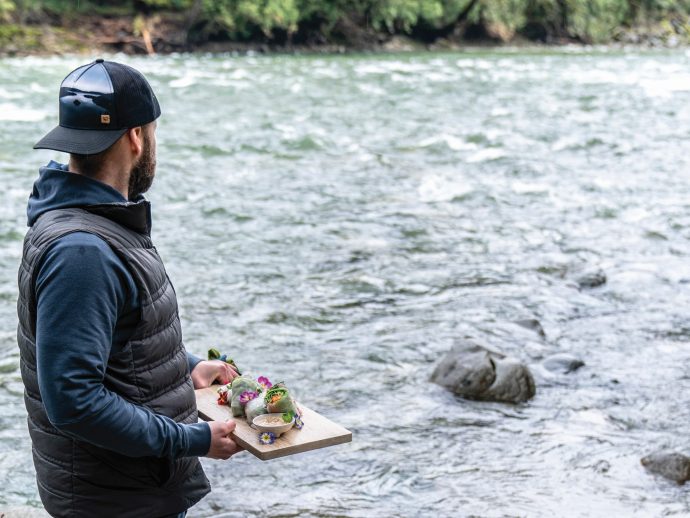 Piling into the car and hitting the open road presents both challenges and delights. When planning your on-the-road menu, choose dishes that pack well or that get better as leftovers. Dig out your cooler and read on—it's time to hit the road!

Freeze-Ahead Breakfast Wraps
Make these wraps anytime and stick them in the freezer for your next excursion.
Wraps
2 Tbsp + 1 tsp (30 mL + 5 mL) olive oil, divided
2 cups (500 mL) peeled, diced sweet potato
2 tsp (10 mL) sweet smoked paprika
1 cup (250 mL) finely diced shallot
1 cup (250 mL) diced red bell pepper
2 oz (57 g) goat cheese
1 cup (250 mL) chopped baby spinach leaves
8 eggs, beaten
6 – 10 in (25 cm) tortillas
Smoky red pepper "ketchup"
1 tsp (5 mL) olive oil
1 red bell pepper
6 baby plum tomatoes
2 Medjool dates, pitted
1/4 tsp (1 mL) salt
1/2 tsp (2 mL) sweet smoked Spanish paprika
1/8 tsp (0.5 mL) hot Spanish paprika
For wraps, in large skillet on medium-high, heat 1 Tbsp (15 mL) olive oil, add sweet potatoes, and cook for about 5 to 7 minutes, stirring occasionally. Once sweet potatoes are tender, pour into bowl and add sweet smoked paprika; stir through.
In the same skillet, add 1 Tbsp (15 mL) olive oil, shallots, and red bell pepper and cook on medium-low heat for 2 to 3 minutes, until soft and shallots are translucent. Scrape into bowl with sweet potatoes and add goat cheese and spinach leaves; stir to combine.
Wipe out skillet, add remaining 1 tsp (5 mL) olive oil, and heat on medium. Pour in beaten eggs and stir while cooking until you have a loose custard, approximately 3 minutes. Add vegetables from bowl into skillet and stir through to combine, being careful not to overcook eggs. Remove from heat.
Lay out tortillas, divide egg-vegetable mixture evenly among them, and wrap or roll. Allow to cool completely and pack for freezing.
To make ketchup, rub red bell pepper and tomatoes with olive oil, add to baking dish, then place under oven broiler. Turn pepper, broiling for 5 minutes on each side, until the whole pepper is blackened. Toss tomatoes occasionally and remove them in advance of the pepper if they're getting too dark. They should be slightly charred. When pepper is black on all sides, remove from oven and place in paper bag to cool. Tomatoes can cool in baking dish.
Meanwhile, in food processor, pulse dates to chop. Once bell pepper is cool, remove and discard skin. In bowl of food processor, place pepper, tomatoes, and remaining ingredients and pulse until you have a sauce with a loose texture. Seal in container and refrigerate or freeze.
When it's time to cook, thaw wraps and sauce in fridge or cooler for 8 hours or overnight. To cook wraps, warm on medium-hot grill for 5 to 7 minutes each side, until center of wrap is warm.
Serves 6
Each serving contains: 408 calories; 18 g protein; 16 g total fat (5 g sat. fat); 50 g total carbohydrates (6 g sugars, 9 g fiber); 369 mg sodium

Kale and Napa Cabbage Salad with Sumac Pickled Onions
Kale and Napa cabbage stand up for hours to the sweet and puckery dressing, and hearty farro will keep you going while on the road.
1 cup (250 mL) finely sliced red onion
3 Tbsp (45 mL) apple cider vinegar
1/4 tsp (1 mL) crushed red pepper flakes
1 tsp (5 mL) maple syrup
1 tsp (5 mL) sumac
Pinch of salt
1/4 tsp (1 mL) black pepper
2 Tbsp (30 mL) olive oil, divided
5 cups (1.25 L) finely sliced kale
1 cup (250 mL) finely sliced Napa cabbage
2/3 cup (160 mL) finely sliced fresh mint
3 Medjool dates, pits removed and finely chopped
2 cups (500 mL) cooked farro, drained and cooled
In small bowl, combine onion, vinegar, red pepper flakes, maple syrup, sumac, salt, and pepper, and set aside.
In large bowl, add 1 Tbsp (15 mL) olive oil and kale, and massage kale for a few minutes with your hands. Let stand for 20 minutes.
To assemble salad, toss kale, pickled onion dressing, and remaining olive oil with cabbage, mint, dates, and farro. Keep cool or refrigerate for up to 4 hours before enjoying.
Serves 8
Each serving contains: 107 calories; 3 g protein; 4 g total fat (1 g sat. fat); 18 g total carbohydrates (3 g sugars, 4 g fiber); 42 mg sodium

Vegetable and Cashew Salad Rolls with Peanut Sauce
Veggies and dip are a healthy road trip staple. Take them a step further in this recipe, inspired by Vietnamese-style salad rolls.
Peanut sauce
3 Tbsp (45 mL) peanut butter
1 1/2 Tbsp (22 mL) rice wine vinegar
1 tsp (5 mL) sesame oil
1/2 tsp (2 mL) tamari
4 Tbsp (60 mL) water, or more as required
1/2 tsp (2 mL) grated gingerroot
2 garlic cloves, peeled and crushed
1/4 tsp (1 mL) crushed red pepper flakes
Salad rolls
8 rice paper wrappers
18 fresh mint leaves
4 radishes, thinly sliced
8 butter lettuce leaves
5 broccoli florets, thinly sliced
24 cashews, pulsed in food processor to pea-sized pieces
2 medium carrots, cut into matchsticks
1 cup (250 mL) baby spinach leaves, stems removed
In small bowl, combine peanut butter, rice wine vinegar, sesame oil, and tamari. Add water, a little at a time, and mix slowly with a fork or spoon to gradually loosen the stiff peanut butter mixture. Once sauce is smooth, if you want a looser consistency, add more water, a teaspoon at a time. Once you're happy with the consistency, add gingerroot, garlic, and red pepper flakes; mix through, and then pack into a sealable container.
To assemble rolls, first set out a clean cutting board for your workspace. Fill a wide, shallow bowl with hot (not boiling) water and, working quickly, soften one wrapper in water and lay it on your cutting board. Place 3 mint leaves and 3 radish slices on wrapper. Add lettuce, fill with cashews, a few slices of broccoli, and a few carrot matchsticks, and finally spinach. Roll tightly and repeat with remaining wrappers until you have 8 rolls. See tip for more wrapping advice.
Pack in a sealable container, keep cold, and eat within 24 hours with spicy peanut sauce.
Serves 4
Each serving contains: 375 calories; 12 g protein; 22 g total fat (4 g sat. fat); 37 g total carbohydrates (6 g sugars, 4 g fiber); 174 mg sodium
By Helena McMurdo